Rising gas prices burden commuter students
For students who live on campus or at the nearby apartments, higher gas prices means it is more expensive to go off campus. For students who drive a long distance to campus, driving to class itself can be a financial burden.
Due to recent global events, including sanctions put on Russian oil, the average price for regular, unleaded gas has been around $4.17 in the Evansville area as opposed to $2.82 a year ago, according to the American Automobile Association. Commuter students are facing increased stress and financial hardship due to increased gas prices.
USI is largely a commuter campus with commuter students making up 76.9% of the student body. Savannah Mathews, sophomore political science major, drives 30 minutes to be on campus.
"I think the thing it affects most is saving money for tuition," Matthews said. "Currently, I don't get any financial aid, so the money I save from work is where I am funding for tuition.  With the gas prices, a lot of money is going towards gas instead." 
Ashley Harrell, junior history major and commuter student, said, "It does stress me out wondering if I'll be able to afford gas or if I'll have to pull emergency funds in order to get to where I need to be."
The highest recorded gas price average prior to the pandemic in Indiana was $4.25 in 2011, according to AAA. Gas prices reached a high of $4.33 in Evansville on March 11, 2022. 
The record-breaking gas prices prevent students from visiting campus and participating in campus life or opportunities. For some students, the prices are also influencing their ability to travel to campus jobs or field practice placements. 
Ben Wohleber, sophomore radio and television major, said while he understands minimum wage being given for campus jobs, the pay means traveling to campus to work these jobs isn't worth it. 
"Before gas prices went up, I tried to work more on campus, but minimum wage on days that I don't have classes aren't worth it anymore," Wohleber said. "I've also struggled with wanting to go to the campus."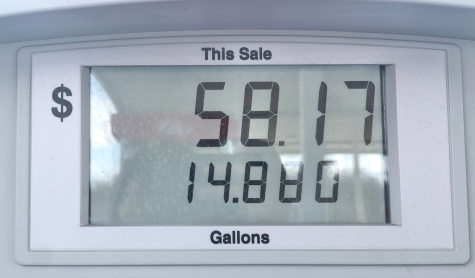 According to Gasbuddy, the cheapest gas in a 15 mile radius is located half an hour away in Henderson, Ky. at an average of $3.80 per gallon. 
Commuter students have experienced mixed support from professors and faculty. 
"I have had professors make suggestions as far as apps go, which show coupons for if you pay so much for gas, you get an incentive on your next time at the tank, or the money from the app can go towards gift cards or money towards food or restaurants," Matthews said. 
Such resources include GasBuddy and GetUpside, which provide the lowest gas prices and discounts. Additionally, many chain gas stations, such as BP, Shell, Circle K and Speedway, participate in rewards programs. 
Other students feel professors need to be more considerate of commuter students. Brooke Sell, junior double major in elementary and special education, drives 50 minutes to be on campus.
"I once woke up at 6 AM, got ready and drove one hour to campus only to find out that we didn't have class. To make matters worse, it was the only class I had that day," Sell said.
This was not the only time Sell's classes had been canceled as she was traveling to campus. 
"I feel like my professors are not considerate of the high gas prices and distance that some of their students are commuting. I'm sure I'm an outlier and most students live close to campus, but I feel like they could offer the option of joining the class on Zoom," Sell said. 
Thomas Kautzman, commuter student representative for SGA, sympathizes with the struggles commuter students are facing. 
"Being a commuter student can sometimes be an isolating and lonely experience," Kautzman said. "Because of this, I commute to campus nearly every day so I can attend class and be involved in organizations. It has caused some financial frustrations." 
Though Kautzman has not needed to make arrangements with his professors regarding the issue, he feels as though they would be understanding. 
On April 13th at 12 p.m. in UC East 2217-2218, SGA will be hosting a commuter student town hall. 
Kautzman said he "highly encourages any commuters facing these problems and others to attend this meeting to grab a snack, express their concerns, and assist university leadership in enhancing the commuter student experience."