REC holds a free hiking trip for students during Spring Break
The Recreation, Fitness and Wellness Center hosted a free hiking and camping trip for students to North Carolina over Spring Break.
Mark Gregory, program director of outdoor adventures, and eleven students went to Panthertown Valley in Glenville, North Carolina for hiking and camping. The trip lasted five days with the group leaving March 5 and returning March 9.
"It was a great outdoor learning experience," said Drew Graber, a sophomore biology and Spanish major. "Being able to get out and see the valley truly was a great experience."
The university covered all costs related to the trip, including expense taxes. All costs, such as hiking gear, sleeping bags, food and transportation were covered by the university. Students only had to bring snacks.
"This was my first trip with the REC and it was fantastic." said Courtney Gates, a freshman mathematics and statistics major. "I would definitely go on another trip with the REC given the chance."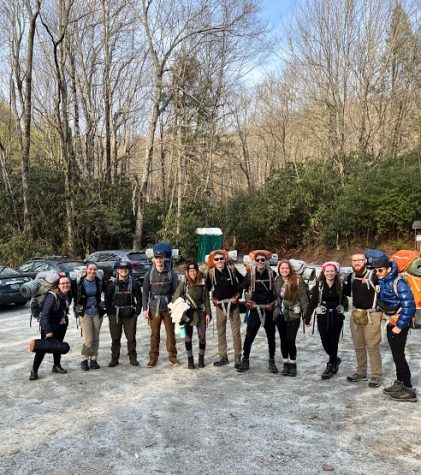 The trip to North Carolina was the first large trip hosted by the REC center since the start of the COVID-19 pandemic.
"We've had other shorter trips, but this was the first big one in a while," Gregory said.
Gregory was the adviser for the North Carolina trip. He said the COVID-19 pandemic did not allow the REC to hold long trips due to the risk of spreading the virus.
"We were able to host trips again as COVID-19 situation got better," Gregory said. "It was very nice to be able to hold another big trip like this after so long."
Gregory said all of the students who went on the trip had "nothing bad to say about the trip." 
The REC is scheduled to hold a one-day trip to Marengo Cave in Marengo, Ind. on March 26. The event will be free to students, and the university will provide all equipment, food and transportation. The final date to register to attend the trip is March 26th.
Gregory said another large trip will be held in Fall 2022. The location is currently unannounced.