"The College Tour" episode featuring USI premieres in the Screaming Eagles Arena
"The College Tour" documentary series premiered a new episode featuring USI. The episode showcases ten students and their stories about life at USI.
The premiere for the 30-minute episode was held in the Screaming Eagles Arena at 3:00 pm Wednesday. Students, faculty and their families attended the first showing of the episode alongside "The College Tour" host Alex Boylan.
The premiere also included a red-carpet introduction of each student featured, each of whom covered a different portion of campus life in the episode: 
USI history: David Bradley, senior accounting major and management minor.

Academic excellence: Elissa Tam, senior biology major and world languages and cultures minor.

Community building: Cole Stephenson, senior economics and philosophy double major.

Campus arts and culture: Perci Hale, senior theater arts major and Africana and French studies minors.

Campus housing: Diago Castillo Koussa, senior mechanical engineering major.

Experiential learning: Josi Barscz, senior biochemistry major and public health and Spanish studies minors.

Student organizations and student life: Tyler Henry, junior business administration major.

Athletics and campus spirit: Kaylee Johnson, university alumni and communications program graduate student.

Academic support: Blake Whitehouse, senior theater arts major.

Online learning: Tori Beasley, senior respiratory therapy major.
After the students, President Rochon and Alex Boylan were introduced, the episode was played on the jumbotron in the Screaming Eagles Arena. The audience cheered and clapped throughout the episode.
After the showing of the episode, each student involved got asked a question by either Boylan or Rochon about campus and their time working on the episode.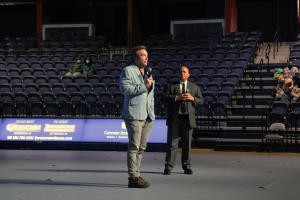 "The feeling of community on campus is so strong," Boylan said. "You can have great professors and academics, but if you don't have community, you don't have anything."
David Bradley said the premiere felt surreal to be a part of.
"I really didn't expect it to be this big of an event," Bradley said. "Walking in and seeing it and the spotlights and everything, it just made me feel like such a star and so honored to be a part of it."
Curtis Bradley, David's father, said he was excited to see his son on screen.
"It was kind of surreal seeing him," Curtis said. "I wanted to elbow him a little bit because he's up there."
Tyler Henry said all the people involved made the experience truly memorable.
"It shaped the university and this shows me how much that everyone cares about the university," Henry said. "It's truly a family foundation."
"It's so beautiful to see our community come together and support this moment," Perci Hale said. "I'm hoping this moment propels us further and to get so many more students to come in."
Elissa Tam said it was unreal watching herself in the episode on the Arena jumbotron.
"They did a great job making it look so professional," Tam said. "Seeing my journey at USI these four years summed up in that perfect three-minute was so moving, and I'm so grateful for this opportunity."
Lynn Rochon, first lady of USI, said "The university looks so beautiful on screen. The students look like professionals."
Kindra Strupp, vice president for marketing and communications, was the event emcee. Strupp said over fifty students applied to be in the episode, the most of any episode on "The College Tour."
"It was a total team effort," Kindra Strupp said. "We made an intentional effort to make it as diverse as possible."
The episode is available on the university website and will be available on Amazon Video later in the year.