Exclusive: 'You weren't sure if you were gonna die or not' — Student reflects surviving Travis Scott's Astroworld
A student's tendons ache as he walks to class Monday. With every sore step, he remembers walking out of the deadly Travis Scott concert feeling like he survived a war zone. 
Kyle Crone, a junior finance major and member of the men's track and field team, reflects on his experience at the Travis Scott concert at the Astroworld Festival Friday in Houston, TX where at least eight people lost their lives. 
"It was like you weren't sure if you were gonna die or not," Crone said. "Because it truly felt like you could die in that crowd." 
Crone said the people in the crowd were "degenerate" and lost their humanity. He stood in the front-middle of the concert and watched as a sixteen year old boy fell to the ground, and no one in the crowd would help him.
He watched unconscious people being crowd-surfaced to the front. Crone said "People were saying that there were dead people that had to get crowd-surfaced to the front of the crowd because there was no way for the medical staff to get into the crowd." 
Crone attended the concert with a few friends including Zeke Davidson, a senior marketing student and Rosalynn Cowal, Davidson's girlfriend.
The group got in line around 11 a.m. because the concerts at the festival started at 1 p.m. Going into the event, there were three security checks. The first was a COVID-19 check where attendees were asked to show their vaccine card or get a negative COVID-19 test. The second check was looking at the wristband to ensure everyone walking in paid for their ticket.
Crone said he had his vaccine card, but they didn't actually check it. They did, however, check his wristband.   
The third security line was a metal detector. The metal detector went off when Crone walked through it because he was wearing a belt, but Crone said no one checked him at all. 
"You could have gotten in there with just about anything," Crone said. "They didn't check my bags either. It could have been very dangerous."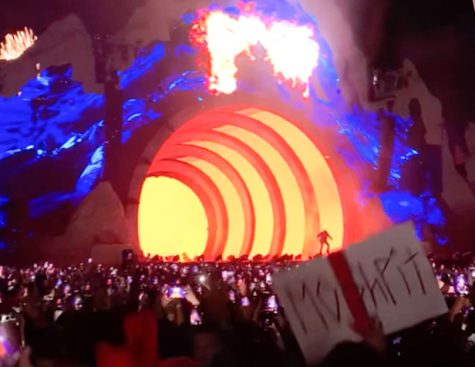 Inside the outdoor venue, Crone said there were only two water bottle stations for 70,000 to 100,000 people. The water line was continuously 30 minutes long. Food was also really overpriced, so people, including Crone, were not purchasing food. 
The thirty minute countdown for Travis Scott and Drake's portion of the concert began at 8:30 p.m. Crone said before the countdown began, attendees had been standing for well over seven hours. People were starving and dehydrated. 
The countdown is when Crone said things got bad. He said when it started, 70,000 to 100,000 people at the venue went to one location. People were jumping the fence at such a large volume to get in that the officers on horses could not stop the jumpers. 
"The area for the concert was too crowded and there wasn't enough room for people," Crone said. "So that's why people started getting crushed." 
Crone said it was like a "wave." People in the back were pushing forward to get to the front. Everyone was falling forward, but he said because the crowd was so tight, there was nowhere to fall. 
"There'd be a five second point where your feet aren't even touching the ground because you're just falling forward," Crone said.
Crone said he was fortunate he could breathe at the event because he's tall. Cowal is around five feet tall, so to ensure she could breath and wouldn't be trampled, he held her up for over twenty minutes, fighting the crowd. 
"There was a point in time where my brain kind of switched off," Crone said.
After the thirty minute countdown, Cowal was injured and taken to receive medical help but was denied because her injury was not serious enough. Crone said the venue staff was under trained and understaffed.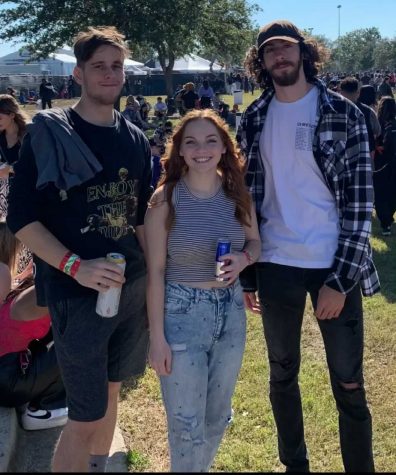 Crone said he does not blame Travis Scott entirely for what happened, citing the main issue was overcrowding and the venue not providing enough water. However, he said Scott influences a crowd to be degenerate, disrespectful and indecent humans. 
Despite other media reports, Scott did not stop the concert at any time, Crone said. 
Once Crone knew his friend was safe, he moved to the back of the crowd and tried to make the most of the concert. Even though it was slightly better in the back, Crone said there was nowhere to go where the crowd wasn't tight. 
At this point, Crone said he had invested so much time, money and energy into being at the concert he felt like he couldn't leave. 
The concert ended early around 10 p.m., and the crowd of 100,000 walked out of one exit onto the streets of Houston. While leaving, Crone said he saw 30 to 40 officers walk in and emergency vehicles flooding the venue. 
He turned around and saw a fire had started towards the stage. He said there was no smoke when the set ended. 
Crone and his friends then walked five miles back to their hotel because the streets were blocked off. He said he hadn't eaten for around 18 hours and his body was tired because the day felt like continuous exercise. 
The group did not find out the news about the deaths until they got back to the hotel. He said there was a concert attendee who "was sweating and ghost white, and he said 'some guy died back there.'" The group knew it was bad, but they thought he might have been exaggerating. 
They found out after being at the hotel for around two and a half hours the number of people who had passed away and the second day of the festival had been cancelled. 
Crone said "it was weird to sleep that night." He woke up after two restless hours of sleep drenched in sweat. 
Crone flew back to St. Louis, MO Sunday, saw his family and then drove back to campus that evening. He was exhausted physically and mentally. 
He said he was lucky his in-person classes Monday started at 12 p.m., so he was able to get some sleep. Crone missed track practice Monday because his tendons and legs hurt so bad from the weekend. 
He said it has been difficult for him to focus in class because of how tired he is. He said his experience at Astroworld is going to stick with him for the rest of his life. 
Crone said, "I don't feel like you should go to a concert and fear for your own life."