Students take first look inside new athletic facilities
Students, faculty, staff and a state senator take a first look inside the Aquatic Center and at the new campus sculpture, "The Screaming Eagle."
Members of the university community toured the Aquatic Center, the Screaming Eagles Complex and the Screaming Eagles Arena for the first time Thursday evening. 
Tours were led by the men's and women's basketball teams along with the exercise science club. Sodexo provided free hot dogs, chips and cookies to attendees.
Vanessa Shafford, freshman women's basketball guard, and Lauren Carrie, freshman women's basketball center, both said they were excited to help give tours. 
Shafford said the facilities at the university are what stood out to her when she was visiting campus. "That's why it's so cool to get to show other people," she said.
"Not a lot of programs at this level have a facility like this," Carrie said. "So it's nice and it's really special." 
In Thursday's introductory speech, President Rochon said this was a great day for many reasons.
"Think about where USI was in 1965, and where we are right now in 2021," said Rochon. "There is no way in the world we could have imagined that we would be in this space with these kinds of facilities, the envy of the globe." 
The university celebrated its 56th birthday Wednesday. 
Rochon said he was excited about the new Aquatic Center, because "All I could do in high school was swim." 
The Aquatic Center will be opening in October 2021. The Aquatic Center will host the university's new swimming and diving teams with a 25 by 23-meter pool. 
"We are fortunate because we inherited great bones," said Rochon. "We inherited a great vision, people who had great discipline and also people who were selfless." 
Rochon said these great people are the reason why the university is able to open facilities like the SEC, Screaming Eagles Arena and Aquatic Center. 
"We are a global influence now because of those individuals," said Rochon. "So, I'm happy."
Vaneta Becker, Indiana state senator, came to celebrate and take a tour of the new athletic facilities. 
Becker graduated from the university in 1994 with a Bachelor in Science in marketing and political science. 
"I actually carried the bill in the House that created USI back in 1984," said Becker. 
Becker said it is clear that this university was needed by how much has happened since its founding. 
"It's heartwarming to see all that has happened here," said Becker. "I'm extremely proud." 
The sculpture outside the SEC was revealed Thursday evening as well. The sculpture is 12.5 feet.
The sculpture titled "The Screaming Eagle" was designed by Joan Kempf deLong and John McNaughton, a retired university professor. The sculpture was financed by Tim Mahoney and Ronald and Terry Boren.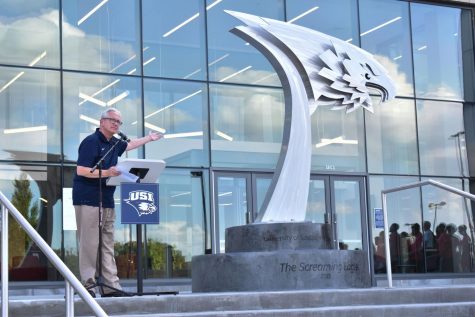 The Screaming Eagles Arena opened in 2019, and the Screaming Eagles Complex opened in summer 2021. The SEC cost around $38.5 million to build. It now houses university athletics and kinesiology and sport department.
Cameron Kainer, swimming and diving head coach, said the university is in the process of hiring lifeguards so the Aquatic Center can be used by students, faculty and staff. 
Once open, the heated pool will be available for students and faculty to swim from 6 a.m. to 8 a.m., 11 a.m. to 1 p.m. and 6 p.m. to 8 p.m. 
"Our faculty have been doing amazing jobs with limited facilities," said Rochon. "Now that we have state of the art, imagine what they can do with their brilliance, their creativity, their enthusiasm for our students. The sky's the limit."