Women leaders encourage the university's future leaders
A girl was walking into her middle school for the first time, she noticed the sign above the entrance said 'dean of women.'
Jennifer Hammat, dean of students, asked her mother what the sign meant. Her mother said when the school was built in the 1950s, the boys reported to the dean of men and the girls reported to the dean of women because the boys and girls were disciplined differently. 
Hammat said she saw the dean of women, but she always wanted to be the dean of students. 
"It never occurred to me that I couldn't be the dean of students as a woman," Hammat said. 
Jennifer Hammat has been the dean of students for the last two years. As the dean of students, Hammat leads the Dean of Students Office. In addition, she serves on the Board of Trustees, the University Planning Committee, the President's Council and the Equity, Diversity and Inclusion Council. 
"I have a responsibility to pay it forward. In the women I supervise, I try to empower them to stay engaged or figure out ways to keep them motivated," Hammat said. "I am very cognizant of the fact that the path to leadership roles for women in higher ed was paved by a lot of women before me, including my mother." 
It is important for female students to use their voice and know they are supported by the university's leadership, Hammat said. She said President Ron Rochan supports her input and pushback.
"I think it is important to tell truth to power, and I think certainly as women we have a responsibility to do that," Hammat said. 
Sarah Stevens, director of the Honors Program and the living learning community, said she has always felt supported as a female in leadership at the university. 
"I have heard and seen and felt the impact of sexism, but I don't feel I've been negatively impacted by sexism in my position at USI," Stevens said.
With the swearing-in of the first female vice-president Kamala Harris, women should be encouraged to use their voice because women should be in positions where decisions are made, Stevens said. 
"Speak up. Raise your hand. Speak up. Don't ever pretend you're less smart than you are or less successful than you are. Be confident and use who you are," Stevens said. 
Stevens hopes the university will add a gender studies major soon for the students who wish to dive deeper into feminism and gender studies theory, she said. 
Alexandra Coors, a sophomore business administration assistant, is the first female program assistant for Emerging Leaders. Coors said it is important to her to hold this primarily male position. 
"I think it's really great for other freshmen and other women on campus to see a woman in a leadership position. That is impactful because it shows that anybody can do it," Coors said. 
As the program assistant, Coors is the head mentor over the mentors who are leading 48 freshman mentees. Coors is also the first-year student assistant and an amigo.
The university is one of the few places where her gender was not keeping her from achieving her goals, Coors said.
"USI provides so many good leadership opportunities, and I would hope that any female would jump at any opportunity that they felt like they could take and to never let the fact that they're a woman stop them from taking the opportunity," Coors said. 
Hayley Kaelin, a sophomore nursing major and Activities Programming Board president, said the university's support of women in leadership is empowering.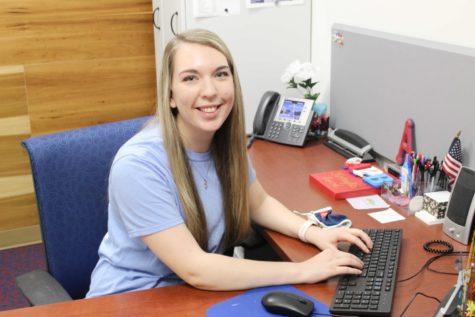 "I'm extremely honored to be given the opportunities that I have been given because of USI and APB and knowing that my voice has the ability to be heard," Kaelin said. "I can not only speak out for myself, but I have the ability to speak out for the other women in the organization and other students."
As the president of APB, Kaelin leads the APB board and around 40 active members to plan events for students, Kaelin said. She said she also works with the Student Government Association and Fraternity and Sorority Life. 
"Seeing the huge strides that women have made, it's so crazy and empowering to think about." Kaelin said. "My grandma has never thought that a female could be in a position of power, like being vice-president, or even me just being president of APB." 
In honor of Women's History Month, the Multicultural Center honored the Phenomenal Women Class of 2021 virtually Tuesday. 
Women's History Month runs through March. Women deserve recognition, Jennifer Hammat said. 
"I think that while it's unfortunate that we still have to pause and say 'women have down some amazing things,' we'll know when we don't have to do it because we won't have to say it," Hammat said.