Basketball heating up in hopes of season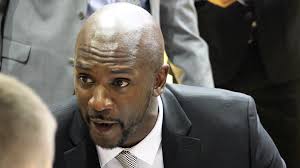 Seven months ago, the men's basketball team was on their way to Indianapolis for the regional tournament. It was at the Cracker Barrel in Bloomington where the team found out their season was over.
There were more troubles to come for the team. Former head coach, Rodney Watson, announced his retirement in April and former assistant coach, Brent Owen, who accepted a head coaching position at Eastern New Mexico University, also left. 
USI has since hired a new head coach, Stan Gouard, and a new assistant coach, John Spruance, along with several new recruits and transfers.
Practices have an entirely different structure under the coach, with more energy and team-oriented style of play. Gouard says that right now he's trying to prepare the team to play the way he wants them to play. 
'Culture' is a term that is at the forefront for Gouard and his team, as the coach is also working to prepare his team mentally for what will certainly be an odd season.  
"Right now we're trying to instill a lot of terminology, a lot of the things we're trying to build in terms of culture," says Gouard.
One major change this season is the requirement that players wear masks during practice. Gouard says his team's main goal is following university protocol.
"It is different for everybody, coaches and players. I think more so for the players, the adjustment they're making right now to everything we do on the court is in face coverings," says Gouard. 
One of the few constants from last year is senior guard, Mateo Rivera. Mateo is the team's starting point guard and vocal leader. 
Gouard said that Mateo was very active with the team over the summer. Mateo sent out a tweet saying "Ima be a national champ.. book it." Gouard said Mateo held guys accountable with staying in basketball shape all summer and that he's doing the same during practice.
"He is a great extension of the coaching staff on the court and off the court and in the locker room. We are very appreciative of everything he is doing so far," says Gouard.
Athletics Director Jon Mark Hall listed Thanksgiving weekend as a likely start date for both men's and women's basketball in an announcement last week. But no matter when next season starts, the men's basketball team will be ready.