Stan 'Superman' Gouard returns to USI as men's head coach
USI athletics announced Stan "Superman" Gouard as the new head coach for the men's basketball team Tuesday afternoon in a Zoom press conference.
He will be the 10th men's head coach in USI's history.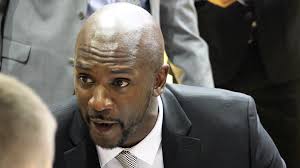 "I love USI," Gouard said. "It's been that way and has never changed since my playing days… It's the place I always envisioned myself being back at."
Gouard played on the Eagles basketball team, under former head coach Bruce Pearl, when he was a student athlete at USI from 1994-1996.
USI reached the NCAA Division II finals in 1994 and Gouard was a member of the 1995 national championship team. Gouard was inducted into the USI Athletics Hall of Fame Class of 2007.
Gouard also served as an assistant coach with the Eagles from 2001-2002.
"There's a great deal of love and respect for USI, not just the basketball program, but the university and the Evansville community," Gouard said. "I have so many great stories from my time here. It was a no brainer for us."
Gourd returns to USI after spending 12 years as head coach of the men's basketball team at UIndy. He left UIndy with a 204-111 record.
His 19-year coaching career includes a stop at Indiana State from 2005-2008 and a previous job at UIndy from 2002-2005 as an assistant coach.
"We've stayed connected throughout the years," Athletic Director John Mark Hall said. "I'm super excited about it and just really glad to have Stan on board."
Gouard's success with the Greyhounds netted the team eight Division II tournament appearances over the past decade along with multiple All-Americans and a 2014 GLVC Coach of the Year honor. UIndy finished 24-6 overall in this year's regular season and were set to hold the 2020 NCAA Division II Midwest Regional before it was cancelled.
Nicknamed "Superman," Gouard was named the National Association of Basketball Coaches Division II National Player of the Year in 1995 and 1996. He was inducted into the GLVC Hall of Fame in 2003.
"A lot of people reached out that were qualified to do the job and that's all an Athletic director can ask for, and all of a sudden you have to make a decision, which person do you think is the best fit," Jon Mark Hall, athletics director, said. "Which person do you think can take you where you want to be? Timing is everything and it felt like the right time to get Stan back here again."