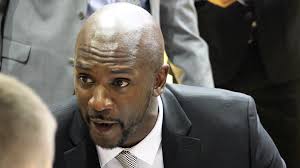 Riley Guerzini and Nik Cunningham

April 7, 2020
USI athletics announced Stan "Superman" Gouard as the new head coach for the men's basketball team Tuesday afternoon in a Zoom press conference. He will be the 10th men's head coach in USI's history. "I love USI," Gouard said. "It's been that way and has never changed since my playing days… It...
Megan Thorne, Opinion Editor

September 14, 2016
Daniel Wyatt said he has always had a passion for instructing golf. "I never thought I would be a golf coach in my life for a university but the path led me in that direction," Wyatt said. "I'm thankful for it everyday." Wyatt is the new head coach for the men's golf team for the 2016-17 s...