Creating a connection to nature
Student curates gallery of environmental art and writings
Bridget Eckerle is a different kind of art major. 
The senior public relations and advertising and studio art major said she wants to do gallery work that showcases other people's art instead of her own. She had the chance when she became a 2019 James Sanders Fellow.
Eckerle curated an exhibit, as part of the Fellowship, focused on environmental art called "Detox" that has been showing since Dec. 7 at the New Harmony Gallery of Contemporary Art. The exhibit contains writings and artwork by a variety of contributors, both regional and international, including USI students and faculty. 
Eckerle added her art major her junior year after she was nearly complete with her first major. She said she always loved art and when she took an art elective at USI it was her first art class since elementary school.
"I just love the way that art feels," Eckerle said. "It's just a really good way to express yourself and the art community at USI is just amazing. Everyone is so nice and encouraging and I just couldn't get away from it."
Gallery Director Garry Holstein and Eckerle decided to do a show that would showcase both of her majors. Eckerle invited authors to submit poetry and short stories in addition to art. The writings were set down on benches in the middle of the exhibit so guests could read them as they look at the art. She didn't set a lot of limitations on artwork that could be submitted because she wanted to get different types of artwork.
"The art was supposed to be based on artists or authors connection with nature, whether that be a positive or negative thing because I think it's important to see the full picture when you're thinking about things like that," Eckerle said.
Eckerle defined environmental art as anything that brings a conversation about nature and the Earth. The exhibit includes pieces made from recycled materials and pieces with commentary on global warming.
"I have a strong connection with nature and I have really strong opinions and it's really scary about what's happening with the Earth right now," she said 
Eckerle said there are a lot of changes a person can make in their daily life that can help preserve nature.
"I wanted to bring a conversation," she said. "That's why I think art is really important because it brings a picture that people can see And they care more about it rather than just hearing words."
Eckerle wanted to include writings as well as art so people could experience the message of the exhibit in different ways. She compiled the poetry and the artworks in a book called "Detox" that is available for purchase on Amazon.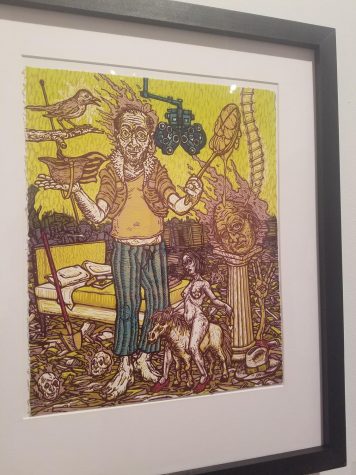 Holstein said this exhibit is a great example of how a gallery can provide opportunities for a student to further their practice and build their professional resumes as they move from undergraduate to graduate school or professional practice.
"It's the sort of hands-on opportunity that isn't always available," Holstein said.
Holstein said Eckerle was fantastic to work with and she fulfilled her requirements as an artist and then took it a step further by physically documenting the art and writings with the book.
"I'm always excited when someone brings something new to the table, and that's what happened with this particular exhibition," he said.
The exhibit will be up until Jan. 25. Eckerle said students should visit the exhibit because of the different kinds of artwork and the different messages they hold.
"One of the sculptures, you look at it and it's supposed to be a really big butterfly going through metamorphosis, a cacoon," she said. "And you look at it closer it's like electrical wires and bottle caps and you don't see that at first. But when you look deeper into the piece you see that there's more meaning to it."