VP of marketing and communications addresses website concerns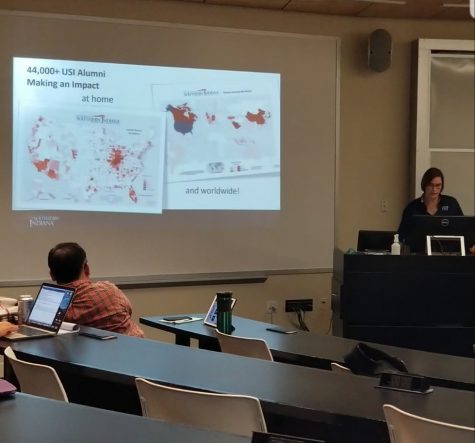 Vice President of Marketing and Communications Kindra Strupp was invited to the Faculty Senate meeting Nov. 15 to talk about her position and team.
Strupp said that the Faculty Senate meeting was a chance to give the faculty an opportunity to ask questions and to present what the Marketing and Communications Department does for the institution.
One of the main concerns that faculty attending the meeting had was the search bar when people first go to the university's website.
"That database is really based on our programs," Strupp said. "So various majors and minors and so forth."
She said the website will never truly be finished. Just like social media, it will constantly be changing and updating.
"It's intended for prospective students to get a fairly quick idea of, is this the right thing for me and do I want to consider coming to USI for it?" she said.
The database was launched in the summer of 2018 and the Marketing and Communications team has made some amendments over time.
Strupp said that based on the 35,000 searches conducted using the academic program search tool, people are spending five times longer on the university's website. On average, people view 4.5 more pages each time they go look at the website.
People looking through the website are also more likely to click deeper to college websites and the department pages, according to Strupp. 
The university's Marketing and Communications is in charge of Special Events and Scheduling Services, Community Engagement and Special Projects and Alumni Relations and Volunteer USI.
They also oversee Athletic Communications, creative and print services, Copy Center, marketing, branding, licensing, University Communications and web services.
The USI brand is the USI logo on images, clothing and online.
Strupp said the Marketing and Communications Department is in charge of the positioning statement, which is an expression of how a brand can fill a particular need in a way competitors don't.
The university's positioning statement is:
"The University of Southern Indiana (USI) is a public, higher education institution offering 80 undergraduate and graduate degree programs. USI and our experienced faculty (never teaching assistants) provide students with affordable academic excellence, personal attention and hands-on learning. The modern campus is situated on 1400 beautifully-kept acres in southwest Indiana. USI affords the opportunities of a large university in a friendly, welcoming environment."
Strupp said that the university has three main audiences. The primary external audience is the prospective students. This includes adult learners, high school age, veterans, transfers, athletics, international, first generation, residential and commuter students who express interest in attending the university.
The secondary external audience includes the parents and family of students, community members, donors, alumni, employers and media.
The internal audience is faculty, staff and current students.