Report shows college voting rates in midterm elections doubled in 2018
Anna Ardelean said that you can't get upset about voting results if you don't show up. 
The President of the College Democrats said that after the 2016 election, many young people were upset about the results and were energized to take part in the change.
According to a report from the Institute for Democracy & Higher Education (IDHE), college-student voting rates doubled in 2018 compared to the 2014 midterms. The report is based on the National Study of Learning, Voting and Engagement (NSLVE), the only national study of college voting. NSLVE examines voter turnout with college campuses of different regions and types. They also compare across student demographics and fields of study.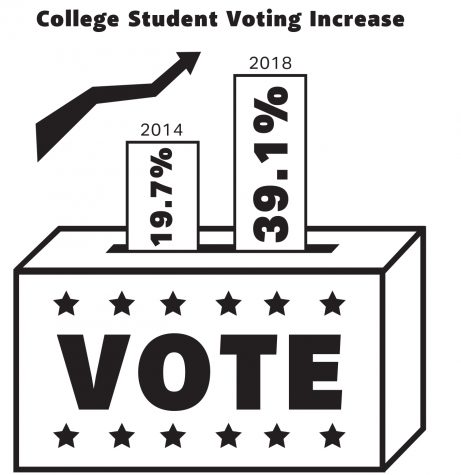 The voting record is based on more than 10 million students at more than 1,000 colleges or universities all across the nation. IDHE doesn't get any information about individual students that could identify them or how they voted.
The average institutional voting rate on college campuses that participated in the study was 39.1%, which is 20% higher than 2014.
"I've been having a lot of conversations with students about voting," Ardelean said. "We spent a lot of time in 2018 registering voters and people don't seem to be as opposed to it anymore."
The U.S. Elections Project found that the voting rate of all Americans increased by 13 percentage points in 2018, but the college and university national student voting rate increased 21 percentage points from 2014. Ninety-nine percent of college campuses that participated in the study had their voting rates increase. Almost half of them saw their rates increase by 15 to 24 percentage points.
The voting gaps between majors persisted in 2018. Turnout among students in Science, Technology, Engineering and Mathematics fields lagged behind students studying the humanities, social sciences and education.
"Politics are no longer boring, for better or for worse," Ardelean said. "You really have to pay attention and get involved if you're not happy with how things are going." 
The study also found that women in college have continued to vote at higher rates than men in 2018. 
"I don't think we should be seen as we are doing something special because of our gender," President of College Republicans Brooke Frederick said. "We should be seen as, we are working hard to make our voices heard and we are trying to make our government better."
The political science major said she believes in women empowerment and supports women being in office as she wants to someday be in office herself.
Black women maintained their position as the most active voters on college campuses and research found that Hispanic women made the largest gains. Hispanic students were the largest voting rate increase across racial/ethnic groups, being up 22.5%.
The study also found that, while historically older Americans voted at higher rates than the younger generations, the turnout gap in 2018 between students over 30 and those under 22 dropped from 22.3% to 16.9%.
"I think it's because we're out of high school and starting to realize that we actually can have a voice," Frederick said. "We're seeing that the government is not going the way we want to so we're actually realizing, 'hey we can turn the tide in make it go in our favor.'"
College students can register to vote either with the address they live at while they attend school or the address they stay at when they're not in school. First time voters in Indiana will be required to show proof of address when they go to the polls. They also need to have a photo ID with them.
According to the 2018 primary election document, Vanderburgh had 123,086 registered voters, but 10%, actually voted.
"Just go out and vote," Frederick said. "Be educated on who you vote for."