C-Store announces vegan, gluten-free options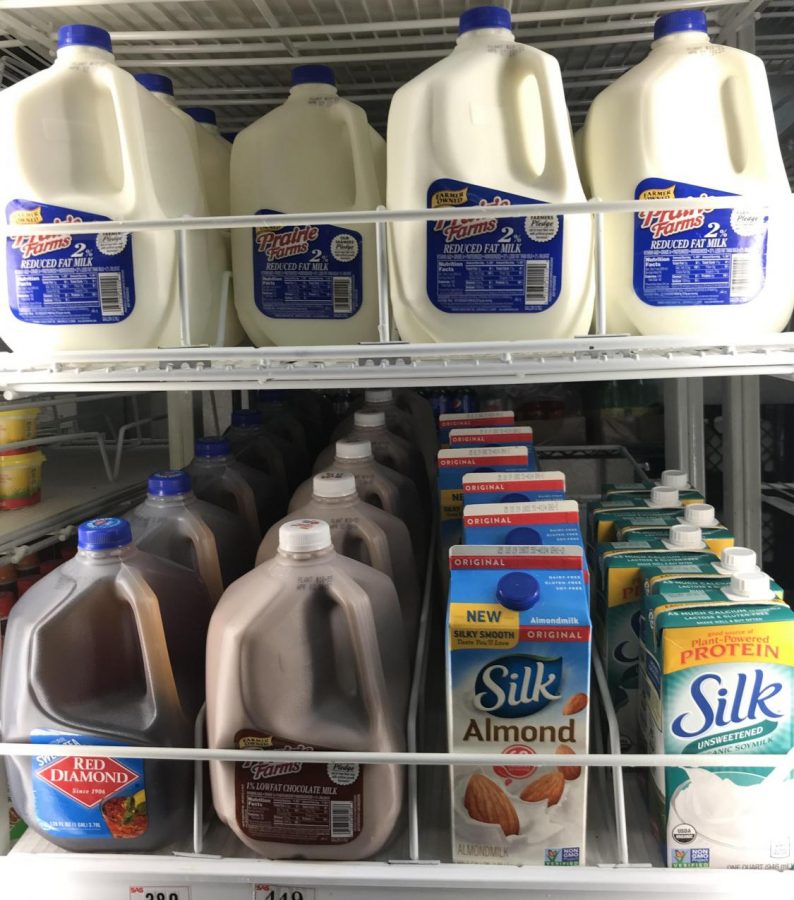 Trinity Elledge was working at an orphanage in Thailand when she was asked to help with chores.
The freshman social work and criminal justice major quickly agreed as she followed the small girls, thinking she would be helping with the daily sweeping or bed-making.
Elledge's eyes widened as an eight-year-old girl with an axe almost as big as her, announced they would be killing the pig for dinner.
"I heard them pull the pig out of the crate and take it over to where they are going to kill it," Elledge said. "I had to turn around and walk away because I was already getting nauseous, and you could hear the squeals throughout the whole orphanage."
Elledge never ate meat again.
Elledge said she became vegan after that, but after seeing a lack of options available when she came to college, she said she has settled on being vegetarian.
The university Eagle Express Convenience Store is responding to the needs students like Elledge have. Since Tuesday, the store has shelved items that benefit vegan, vegetarian, gluten-free and health-conscious individuals.
After receiving surveys filled with requests for more options and greater inclusivity, the Eagle Express Convenience Store released a list of items they were considering shelving and asked students to comment on those items and write down any additional items they would like to see sold in the store.
Upcoming items include vegan ice cream, veggie burgers, gluten-free pancake and brownie mix, and many more.
Elledge said it is her goal to be vegan again.
"It's hard to find vegan food unless you go to Trader Joe's, and that's like 20 minutes away," Elledge said. "So, for me, it will just be the ease of not having to drive 20 minutes. Anything like that I get excited about because vegan options, in general, aren't super popular, so when something is available to me, I get excited about it whether it's big or small."
Elledge said she thinks these alternative food options will benefit all students on campus, and not just those who are vegan or vegetarian.
"I have talked to people from other campuses who have said if there was more plant-based protein offered they would go vegetarian or vegan," Elledge said. "So, I do think opening up that realm would allow more people to at least explore 'do I want to be vegetarian or vegan?' and have the option to do so."
Elledge said having healthier choices will improve the overall health of students.
"If more options like that are available on campus, they will be more frequently picked," Elledge said. "Because I think a lot of times there is just fried food available, and so that's all that people get."
Kevin Thomas said there has been a surge in interest in healthier food options lately.
"Over the years as they do the student surveys and as I talk with students, there has been more interest lately in these types of items," the manager of the Eagle Express Convenience Store said. "It wasn't feasible before cost-wise to bring in a wide variety of these things, but I think with the interest we have had in the last few months, I think that interest level is there now."
Thomas said some of the gluten free and dairy free items will be able to stay on the shelves regardless of interest, but said most items will need to meet the supplier's minimum to stay in the store.
United Natural Foods, Incorporated, the supplier for Whole Foods, is providing these new items to the Eagle Express Convenience Store. Thomas said there are over 12,000 items students can request, including eco-friendly cleaning supplies and personal care items.
Thomas said he encourages students to write down requests for future items and said the more times an item is written down, the more likely it is to be stocked.
Thomas said he already has a sheet and a half of requested items.
"I think it shows we are here because of the students and for the students," Thomas said.
Thomas said if interest continues to rise, he can see being able to special order items that may not be wanted by the campus as a whole, but just for a few individuals who really want a certain brand.
"I think as more of this stuff hits the market and becomes available to us, the price will come down," Thomas said. "I think that has a lot to do with it right now. There is quite a price difference between those items and the regular items."
Elledge said she thinks most students are looking for universities that can supplement their dietary needs and said if universities want to keep attracting students, they need to start accommodating more.
"I think veganism is becoming more and more popular every year, and more and more people are adapting to no dairy or no meat in general and slowly just including those types of alternatives into their lifestyle," Elledge said. "I think in order for a school to meet the needs of their students they should be adapting to the diet changes that they're wanting to make."