Residents express concern, frustration about mold in campus housing
Roommates Dorsa Khatibi and India Harris left for a weekend trip to Nashville in October, but when the friends returned home they could not believe their eyes, or noses.
The freshman students discovered what they described as mold on vents leading into their bedroom and the surrounding areas in the Durbin Building of McDonald West.
Harris, a pre-nursing major, said she is deeply concerned about mold and believes the university needs to do something more to address the issue.

Khatibi, an undecided major, said the emanating smell of mold started to take over the air around her bed.
"My bed is on the right side of the room against the wall, and there was mold around the vents and coming out of the vents into my face. I was breathing mold in every night," she said. "The air conditioning was mold covered, and it smelled disgusting."

Khatibi said every time someone would walk into their apartment, they would note that it "smells like mold." She said she didn't even notice it after a while because she was so used to the smell.
She said the situation only got worse after she started feeling side effects from what she described as a mold illness.

"I had been feeling constant fatigue, breathing problems, loss of appetite and weight loss," she said.

Khatibi followed university guidelines and put in a work order with Facility Operations & Planning online under the "Fix my Home" form to have her issue resolved.
"Please allow a minimum of 24-48 business hours for maintenance to come before calling in or re-submitting the request again," according to the university's website.
She said it took roughly 16 hours to have a physical plant worker come to her apartment to clean up the growing mold.
As Khatibi was leaving for her 9 a.m. class, she was in utter shock.
"(The physical plant worker) stopped me before going in and he only had a spray bottle and a washcloth," she said.
Khatibi said after she left, her roommate informed her that the worker sprayed the affected areas and washed it over with the cloth before leaving.
She said the man did not check any other locations of the apartment for any signs of the problem.
"I was working out the other day and got sick in two minutes," Khatibi said. "That's not normal."
As for Harris, she said that a humidifier installed in their building is having problems turning on and off, and she is concerned that the mold may come back.
The mold issues have also been reported in other on-campus apartments this year.
Freshman finance and accounting double major Angel Bratcher said other residents in her building notified her to check the vents because they found mold in the air conditioner unit of their living room.
Bratcher said she notified the resident assistant of the Ralston building, Jesmelia Williams, who only told the girls to call maintenance. Bratcher said she did not do anything else.
"Maybe on the outside it's okay," Bratcher said. "But if there are cases of people finding mold in their rooms then they should probably do more checks, especially during the summer when people aren't here, they should keep up on their maintenance."
A resident assistant who spoke on condition of anonymity because they were not authorized to publicly discuss the ongoing matter said the mold issue is not HRL's "top priority."
"I would say HRL is not turning a blind eye to it, but with something like mold it is easy to say 'hey here is a humidifier' and then they move on," the source said.
This year alone the RA has dealt with two cases of mold, including one where a student had mold growing out of her book bag and shoes.
"From what I understand, and I want to make it clear I could be wrong, the resident said (the workers) just looked in her room and said 'you have mold, here's a humidifier' and left, it was not an in-depth let's look around and see what's actually going on," the source said.
The source said RAs are seen as a resource at the end of the day.
"HRL does a good job with informing us, but that's about it," the source said. "There's so many students and so little faculty that specializes in that. I think it's an issue because I would hate having mold grow in my backpack."
The source said you can't point the blame at one person.
"We need to step back and say you know what they have 1,000 other people putting in work orders over minor things, so it sucks, but at the same time Housing has a lot on their plate," the source said.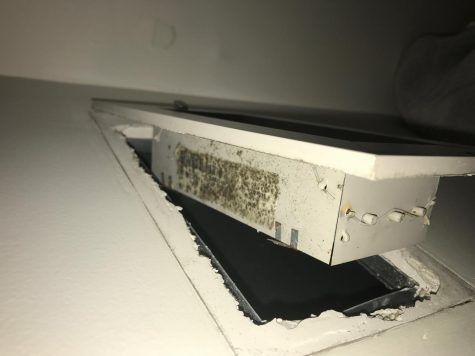 The response
Mold is not a new problem for university housing. The Shield covered mold in housing for decades including in most recent issues dated to 2008 and from 2014.
Director of Housing and Residence Life Amy Price said she has not seen any more than normal the amount of reports of mold in housing this year.
"Actually, in my opinion, we have had less than last year," she said. "There's a difference between mildew and mold, but once something is reported it is handled immediately."
Price said the university uses a disinfectant called Shockwave, which is an EPA-registered sanitizer and cleaner "ideal for flooding and mold remediation."
"Some students want to put bleach (on the affected areas) and that is okay but it's not going to work as well as what we use," Price said. "(Shockwave) is the best product for killing any mildew."
Price said that last year HRL discovered residents placing items such as a couch or other furniture directly next to the window air unit.
She said where and when the mold forms are all weather dependent.
"The fact we had humidity in October, that caused some issues too," she said.
Price said top floors typically don't have as bad of an issue as the first floor where certain areas "seem to have the issues." She said especially with buildings closer to USI's treelines.
"Last year we installed dehumidifiers, on the bottom floor (and) inside the apartment," she said. "What that did was make sure the humidity levels stayed down. We have over 30 additional dehumidifiers that we put in apartments that we find an issue if it's too humid, or if somebody just wiped it down and it came back, there's nothing wrong with us saying here's a dehumidifier that can help."
Price said, however, not all apartments need them, and if they did "we would install them in every one."
She said K-9 detections check for mold during the summer among already searching for bed bugs.
"Maybe we go in and do summer rehab of cleaning, but maybe if it's not entered for three weeks, there could be an issue," she said.
Price said she would tell any student that sees a problem to report it as soon as possible.
"Sometimes we find that students find an issue and don't report it for a week and that's not good," she said. "Besides the early detection, if we do find mold, we contact (Manager of Environmental Health and Safety) Bryan Morrison and he will work with a contractor to do a mold test. We can test the humidity in the air and do a number of things, but if it gets to that point we do have an in-house resource."
Price said she is not concerned with mold or mildew because the university has not seen a widespread issue.
If mold is discovered, Manager of Housing and Residence Life Facilities Operations Royce Newtown will conduct a check and look inside the air heating unit to make sure if the issue is not just dirt or if it is mildew or mold.
"The other thing we have done is some education for residents where they should place their furniture," Price said.
That education in part is to inform residents that placing furniture in front of their air units will only cause mold or mildew problems.
Director of Facility Operations and Planning Jim Wolfe says during summer rehab the PTAC (packaged terminal air conditioner) units in the windows are taken out and thoroughly cleaned, then allowed to dry and put back. He also said the ductwork is cleaned during that time.
Wolfe said this is something that happens every year and his office has not received a lot of calls about any mold-related issues.
"I have not heard of what's going on now," Wolfe said. "All I have heard of is a couple of cases. It's usually worse in the summer when it's really hot and humid, even though there's not a lot of students on campus."
Wolfe said a call or work request typically goes to HRL first, which now handles all housing work requests.
"HRL processes (the request) gives it to (Royce Newtown), and then Royce will go investigate and decide what needs to be done," he said. "If it's something that is really bad we will bring in a vendor, who is trained in those specific areas."
Wolfe said the university has started putting more efficient small units in apartments that will run more.
"A couple of things that have happened in the past is students will turn it down as cold as it can get, in the late summer, late spring, and if you leave it down really low, it will put a lot of moisture in the air and moisture is what causes mildew and mold," he said, "And because of the units we have, the air doesn't always flow completely deep enough into the area, especially the bathrooms."
Wolfe said to contact HRL immediately if you have a problem.
"I would call them, so you can get an immediate response or notify your resident assistant right away so they can get somebody to come look at it," he said. "Mostly we get mildew, and it's not harmful, but somebody who doesn't work with it does not understand the difference."
He said he believes the university has done enough to prevent any issues.
"If the students act in a reasonable manner by keeping things away from the PTAC units it will prevent growth," Wolfe said.
The Shield reached out to Environmental Health and Safety Manager Bryan Morrison for comment on the matter but he forwarded any interview requests to USI Communications.