Student Housing Association to recommend change in visitation policy
Housing and Residence Life Director: USI's housing not gender inclusive
The Student Housing Association (SHA) is considering a recommendation to the university administration that would change the current overnight visitation policy. 
The current policy for campus housing states that "any guest staying in university housing must be of the same sex as the resident."

Director of Housing and Residence Life Amy Price confirmed to The Shield Monday that SHA had proposed those changes and were awaiting the results from a survey sent out to housing students before further recommendation.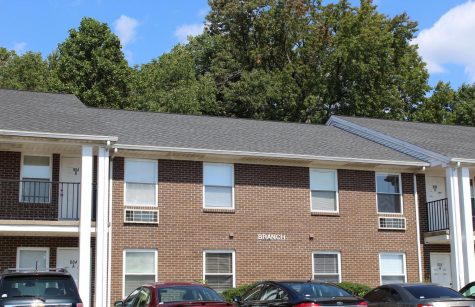 Price said this year's annual resident assessment had the opportunity to add institution-specific questions.
"I told SHA that I would support looking into ways to improve or change student housing based on residents requests and needs and wants, so let's look into it," Price said.
SHA's mission is to "help make students residential experience an enjoyable one because your residential experience matters," according to their website.
The survey asks residents if they would support changing the campus housing visitation policy to allow overnight guests of any gender, with a follow-up question where they can add comments.

Another question asks about which policy recommendation a resident would prefer, whether that be visitation allowed every night with no restriction on gender or overnight visitation allowed on weekend nights only with no restrictions. The final option would be to just keep the existing policy.  

The final question of the survey is in regards to if a student would change the way they stay on campus if the policy would change. For example, if they would be more or less likely to stay at weekends.
Five years ago, the SHA tried to recommend a similar proposal to former President Linda Bennett's administration, but it was ultimately rejected.
"(The Bennett administration) did not recommend it," Price said. "The administration, mainly (President Bennett) said how does this further support and enhance the academic mission of the university, and (SHA's) proposal did not address that."
Price said once the policy change was brought up again this year, she helped mentor the SHA on how to write a proposal.
"What does this do for the university, focus on that," she said. "So in helping them, I said 'let me take your questions and take them to Planning, Research and Assessment Office to have them reword it, and then I bought these questions back to SHA and they said that 'they look great.'"
SHA has been looking into changing the policy as early as the spring semester, but under recommendation from Price, the group waited until a new president was announced in April to make the decision.
"We got a 'no' answer from Bennett, so I recommended they wait for a new administration and also take the old proposal and enhance that," Price said. "And look at what (the previous SHA) did and how can we make this better and how can we explain why this should be changed and so they are currently doing that."
Price said she has advised the SHA to work with the Student Government Association (SGA).
"When you get to the point that you are confident in what you are talking about, I think you should talk to SGA and have them help you because that's a powerful body of students," Price said.
Price said she will not let SHA submit a proposal that she doesn't support.
"It's hard to say this because I don't want to lead the organization, but what I think would be the best thing to submit is kind of a combination of what students say," she said.
She said there is a variety of options including if students say they don't want it changed or looking at other aspects of the timeframe for which the policy would go into effect.
"We may need a policy that doesn't change every building," Price said. "There are a few options, maybe there are a few buildings with the policy or we try on weekends and during the week it's not in place."
Price said another key piece is looking at if Housing and Residence Life (HRL) is inclusive of all gender identities.
"We are not (inclusive)," she said. "It speaks about someone spending the night of the opposite gender, and so I have a number of students that live on campus that identify as transgender or non-binary so they don't identify as male or female, and so how does this fit in, we need to think about the wording of it."
As of Monday, 39.8 percent of campus residents completed the survey which ends on Sunday. Residents were emailed the survey last week.
Price said two years ago when the survey was issued the total number of respondents was 39.8 percent in total.
She said the response to the survey shows that students want to have a say.

Next week HRL will pull the data from the survey and bring it forward to the SHA for discussion. From there, Price will bring the information gathered to Associate Provost of Students Affairs Marcia Kiessling, who will help determine how to move the potential policy forward.
If approved, the policy would go into effect in fall of 2019.
Leave a Comment