More than just a Starbucks cashier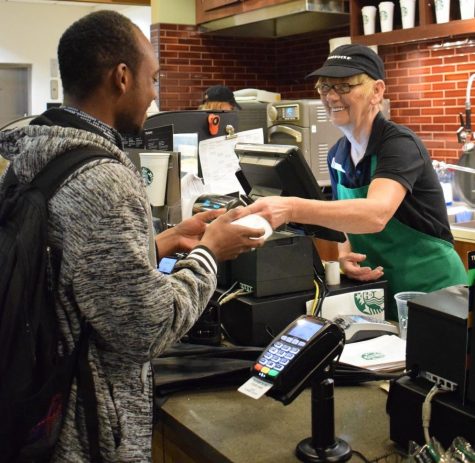 Donna Singleton always promised herself she would never become a bitter old woman.
Singleton, a 63-year-old university Starbucks employee, was married for 33 years before her husband died of cancer.
Singleton met Carl when she was hanging around with some hippies. At 15, she decided she wanted to understand what made hippies, hippies. Carl was a 19-year-old redneck running a pool hall.
When the cops showed up looking for a runaway girl, Carl stood up and said no dang hippies bringing the cops around would be allowed in his pool hall.
"I called him a fat soul," Singleton said laughing. "I did, I called him a fat soul."
Singleton said it was not but a year later before Carl got drunk one night and asked her out.
"I refused him," Singleton said. "I told him that if I'm not good enough to ask out sober, then I'm not going anywhere with you. I told him when he asks me out sober, then we'll see. So where does he take me? The racetrack."
Singleton was married to Carl by the time she was 19.
Singleton and Carl ran an automotive repair shop for 28 years. Singleton helped with the bookkeeping.
"Because it was Carl's Automotive, when Carl died, the shop closed down," Singleton said. "And it was like, I have to get a job."
Singleton tried a couple of jobs here and there before finally applying to Sodexo by the recommendation of her daughter.
"Truly getting this job, I have to say, brought me back to life," Singleton said.  "I wouldn't say saved me, that's a pretty dramatic word, but it brought me back to life. My kids are grown and gone, and this was supposed to be my husband and I's time. You know, you do your romance, then you do your kids, and then you're supposed to do your romance again or just travel or whatever. That didn't happen. But this did."
Singleton was 54 when she got a job at the university with Sodexo. Her first position on campus was at the register in the Loft and said she was scared and unsure if she would be accepted by college students.
Singleton said she started to notice the same faces going through her line, which evolved into little comments and conversations to pass the time while they were waiting.   
Eventually, students started sitting next to Singleton just to talk while they ate their lunch.
"After a while, I started noticing that I was ready to get up and come to work," Singleton said. "I was picking myself up and taking better care of myself. I was taking better care of my house. And I started telling myself 'I can do this.'"
Singleton said that while everyone at the university knows her as Donna, it took years for her to create Donna without Carl. 
"Everywhere we went we were Carl and Donna," Singleton said. "It wasn't Carl and then Donna, it was Carl and Donna. We kind of raised each other, so it's like half of you being gone. It's very strange."
After a few years of working at the Loft, Singleton applied to work at Starbucks. She said she chose Starbucks because it was always full of people.
Singleton said she tries to make a connection with everyone that comes to her register.
"It comes across, I think," Singleton said. "When I'm walking across campus and they're yelling my name and I know they can't see my name tag. You know, it's one thing for them to say 'Hey Donna' when they walk up to the line, my name tag is right there, I'm not stupid. But when I'm around campus or around town and they call my name, it means I have made some impact, because otherwise, I'm just a cashier at the Starbucks."
Matt Kreutzer's Starbucks drink is a grande caramel iced coffee with light ice.
When the senior finance major walks up to Singleton at the register, he doesn't tell her his order. Kreutzer said Singleton makes his order from memory while they have casual conversation.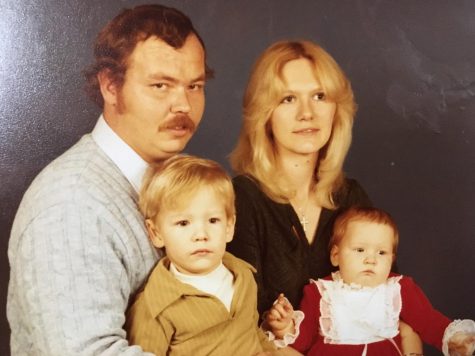 "I met (Singleton) when I was a freshman and I didn't know what coffee was," Kreutzer said. "I told her I didn't like the taste of coffee and so I needed something that tasted good. So, she helped me and taught me coffee."
Kreutzer said the first time he met Singleton he thought she wasn't being patient with him, but later realized she just likes to be sassy for fun. He said she has a tendency to scare freshman because she is quick-witted and stern, which he thinks is phenomenal.
"I've never heard anyone say a bad thing about her," Kreutzer said. "And if they did… they're wrong."
Kreutzer said Singleton doesn't have to do what she does.
"She chooses to do what she does because she enjoys it," Kreutzer said. "She likes memorizing orders and seeing people's reaction the first time she memorized it. She probably has well over 50 orders completely memorized."
Kreutzer said Singleton has a positive impact on the environment at Starbucks.
"She takes something that she cares about, which in this situation, it's hanging out with students at Starbucks, and she does the best that she can at it," Kreutzer said. "Whatever she is working on, she makes the best experience out of it, even if it is just writing names on cups, she loves it. She makes sure other people love it just as much as they can."
Singleton said she either does something 110 percent, or she won't even bother.
"I have to be here for eight hours," Singleton said. "Now, I can either make the best of it, or I can make everyone around me miserable. At some point, you just have to accept things for the way they are and make the best of them. This is my job, and I love working here."
Leave a Comment