Trump stumps for Braun ahead of midterms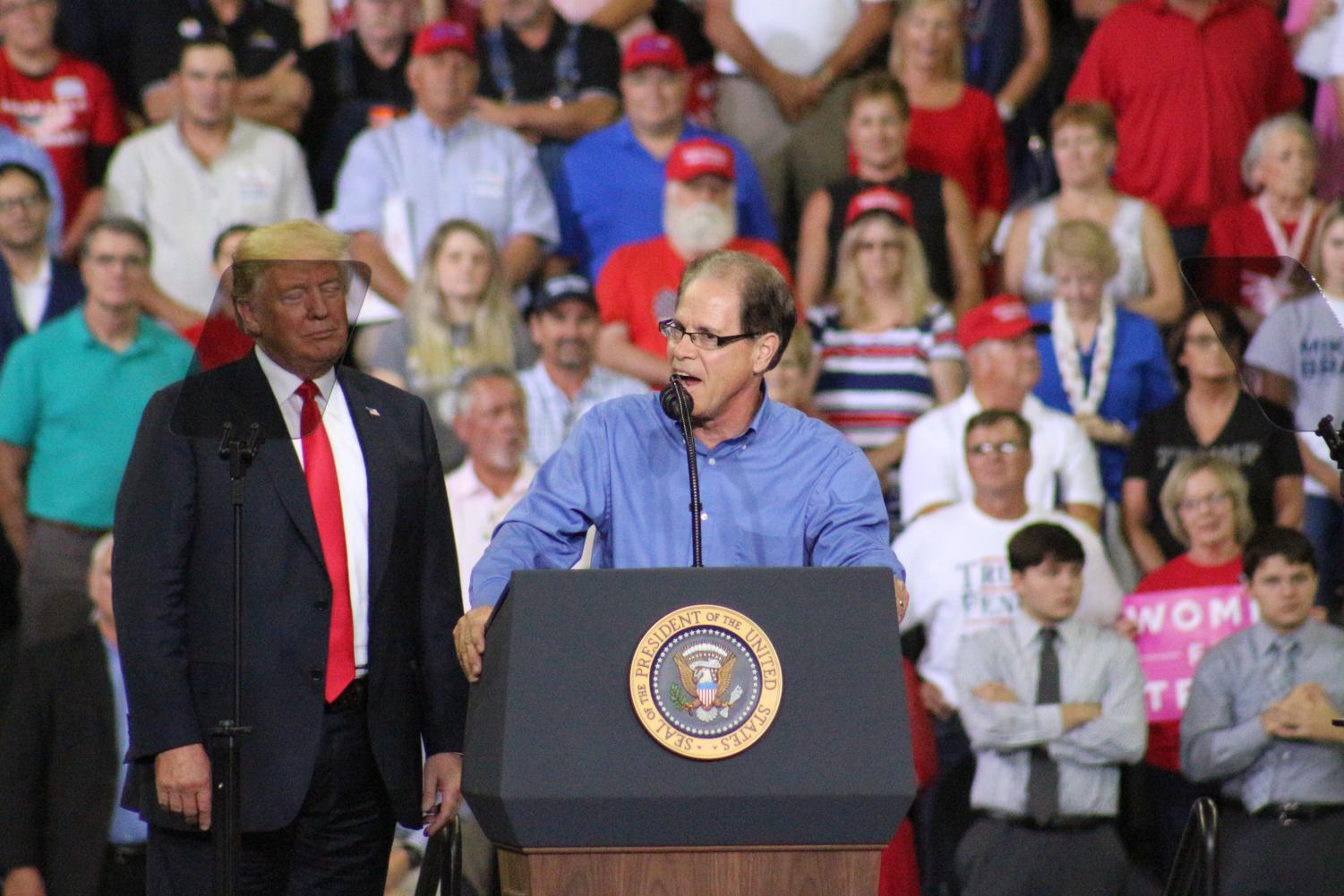 People chanted "Trump, Trump, Trump," as the president's voice bellowed from speakers outside the Ford Center Thursday afternoon.
Last week, Donald Trump rallied for U.S. Senate candidate Mike Braun who is running this November.
Before the rally
Vendors lined the streets as supporters from across the country flocked to the front of the Ford Center to claim their spot for the rally set for later that evening.
Trump's speeches played over the intercom as well as advice on what to do if a protester intervened.
"Get your 'suck it liberals' shirts here," Erika W. said to the crowd of people moving through her booth.
"I've been to every rally," the Tampa Bay, Florida native said. "We've been traveling with him since he announced his presidency."
Erika said the last rally she went to in Tampa was violent and protesters threw things at her. She said usually the protesters aren't that bad.
"There's both sides," she said. "People have points on both sides, and often people will get into it with protesters. I'm like 'tell me why you feel the way that you do.' If you can't give me a valid reason, that's it. I know why I voted the way I did, and I know why I vote the way I do."
Erika's cousin James Strange came to support her and help out at with the booth during the rally.
Strange has lived in Evansville for two years, and this is his first rally in the area.
"I've had a few people yelling and cussing at me and telling me I am a piece of poop," he said.
"When I was in Tampa I was called a part of the KKK because I am white," Erika added.
Strange said when people yell at him, he tries to just take it and go about his business.
He said the Evansville rally hasn't been too bad, and he just wants to hear more about the wall and what Trump is going to do for the military.
"A lot of my friends just came back from Iraq or wherever and I want to hear stuff about that. I wasn't in the military but I worked at the base," he said. "…I'd also like to hear more about the wall because I heard for every illegal immigrant he is going to charge $2,000 per illegal, which I think is fair because we work hard in America to survive and make things good for us."
Strange said he was homeless for about a year and a half due to health conditions, but he is now getting back on track.
"I struggled really bad for a while and I'm still struggling. But I am making it," he said. "…I'd like to hear his plans for what he has got for us people. Charging the illegals makes me feel better that all people in America will have jobs, places to stay and resources."
Strange said he respects that the president donates his own money to help people.
"I'm not saying he is a bright man or everything he is doing is right so far with trying to get America better," he said. "I think Obama really screwed us up."
Ian Davis, a former USI student, said he came to the rally to see what was going on.
"Basically over the past two years after Donald Trump got elected, I basically figured out that this whole political thing that is going on doesn't really matter," he said. "I think this is more of a game, and it's no less entertainment than you would see on TV. They feed on fear and paranoia."
Davis said when CNN uses the red breaking news banners, it's telling the human mind that there is danger.
"It says 'breaking news whatever, whatever, Trump does this,' and I think we are all being controlled by fear and the paranoia factor of the whole thing," he said. "I'm just not for that anymore. I was very liberal before. Extremely, annoyingly liberal, now I'm not even identifying as either side."
Davis pointed to the crowd of people and said, "I love these people just as much as I love everyone else."
Davis said he thinks Trump uses the "build the wall" slogan to catch people's eye, but he views it the same as what CNN is doing with the red banners.
"It's a little trickster thing he does like CNN," he said.
He stood in the middle of the street with his sign that had a wall drawn between the words "you" and "politics," "news," "social media," "fear and paranoia," and "violence." On the back of the sign Davis wrote, "who cares?"
"The news promotes all these things. My personal take on social media is that I've cut myself off from it," he said. "I feel sort of, not to sound hippie and out of my mind, but (social media) is mind control in a sense. It does have aspects of it that are overly influential. And of course I have this 'Who Cares?' which is basically if I see people arguing, I just walk up and show this to them."
Andrew Payne, a junior sports management major at USI, said he came to the rally to support Trump.
"I love our country and I believe in what he is fighting for," he said. "I wanted to come out and show my support from the president."
This is Payne's first time seeing Trump in person and he wanted to hear his support for Braun.
"Braun is the reason why he is here, and I'm expecting to hear as far as his immigration," he said. "…And what he is doing for this economy which is a big talking point for November."
Payne said he was excited for the atmosphere and to be with a lot of people who think the same way and support similar things.
"I'm excited to hear what he has to say because you hear different things depending where you go for information," he said. "So getting it from the man himself is something that I look forward to."
Trump's speech
Almost every seat in the Ford Center was filled around 7:30 p.m. and a loud wave of cheering erupted as the president made his way to the podium.
Trump waved and clapped along with the audience as he took his spot.
He looked over at Indiana Republican Governor Eric Holcomb, who spoke previously, and said, "You have a governor who is doing a fantastic job."
Trump also spoke about the media after a protester was removed from the arena.
"Look how many cameras we have back there, it's like the Academy Awards," he said as the crowd turned and booed the media.
Trump then introduced Mike Braun and invited him to speak for a short time.
His speech focused on his plans for Indiana and doing the opposite of what his opponent, Democratic Senator Joe Donnelly is doing.
"Get your friends and get your neighbors out because I'm gonna need the help to cross the finish line," he said. "Joe's gotta go."
Trump then told the crowd "a vote for Mike Braun is a vote to make America great again."
The president also spent time talking about the Justice Department and the Democratic Party.
He said Democrats are the resistance and booed with the crowd as he said "they want to shut your coal mines."
Trump celebrated law enforcement and border control and then praised Indiana.
"You love your state and you love your country," he said. "You're loyal and you help build this country."
Trump ended his speech at about 8:30 p.m. and chanted with the crowd, "we will make America great again," as he left the arena.
The protests
Autumn Koehling protested for three hours against the Trump rally Thursday afternoon.
Her parents, however, were just a few blocks away inside the arena preparing to hear the president speak.
"We butt heads a lot," she said. "But we still try to support each other. I know my parents are proud that I exercise my freedom of speech in this way even though it differs from their opinion."
The senior archaeology major at the University of Evansville said their differences make it hard when she goes home for holidays.
"Even though we argue a lot, we still try to be civil to each other," she said. "It was tough, we had lunch right before hand and then went our separate ways."
Koehling said she decided to go to the protest because she feels it's a good chance to share opinions.
"Not everybody supports the current administration," she said. "I think the administration needs to know that so they can better support us."
Koehling said being out at the protest was a great experience.
"Not only was it fun, it was really enjoyable to be around like-minded people," she said. "I think it was just a really great example of democracy at work. We have this freedom of speech, freedom to protest and freedom to speak our minds, and I thought it was a really great opportunity for us to do so."
Koehling said it was a peaceful protest, and they marched downtown and chanted with signs.
She believes it's a good example of the way people should use their voices.
Although Koehling said she hasn't been personally affected by the president's policies and beliefs, she has friends who have been.
"I have friends who have been affected by the immigration bans and by the talks of deportation and the wall, and by transgender issues," she said. "I'm LGBT myself, however, I have not currently been affected by any discrimination yet. I know he passed a law that allowing discrimination is legal in a lot of places now, and I felt ostracized by that policy."
Koehling said she just cares about people and the way they are affected.
She said during the protest she saw 9-year-olds and 14-year-olds getting up and speaking, as well as older people, which she was happily surprised by.
"Protesting gives people the opportunity to vent their frustration," she said, "It shows people that are maybe afraid, to come out and say what they feel and be themselves…they see other people being vocal and angry and willing to change things and it gives them the opportunity so they can do the same when maybe they haven't felt comfortable before."
Leave a Comment