USI: No plans to expand parkway development
Extension of University Parkway to Interstate 64 has entered the beginning phase of development. 
University Parkway, a county road that runs north from the university's campus and connects to state Route 66, last saw expansion in May 2012.
Vice President of the Vanderburgh County Commissioners Cheryl Musgrave said the project has been a priority of commissioners since 1977.
"It is at the point now where it needs to go north of Diamond Avenue," she said.
The Parkway corridor has long been undeveloped, with fields and rural farmland on both sides of the road.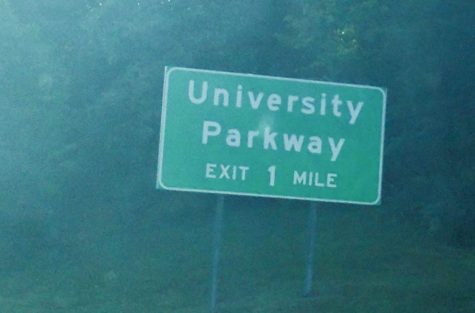 A $500,000 engineering study to determine the next segments the four-lane highway would take to the north of Diamond Avenue was approved at a county commision meeting in June. However, Musgrave said that a $10 million request for funding from a state grant was denied.

Vanderburgh County was among 43 Indiana counties not receiving federal aid money for road work.
"We submitted an application and it was evaluated against others, and ours didn't score high enough," Vanderburgh County Engineer John Stoll said.
Musgrave said the application was improved to "increase our potential standing."
"Development is waiting in the wings for completion of a sewer lift station," she said. "This time next year you will start to see construction."
Musgrave said regulatory standards from Vectren took place a month or two ago and that everything is up to par. She said with a new sewer extension already in the works, future development is almost certain.
Currently, there are 21 acres zoned for community commercial and 79 acres zoned for general commercial. The zoning area south of Hogue Road and west of University Parkway was rezoned to commercial and residential several years ago.
The development, on the property owned by Gene and Jeanne Pfeiffer, was previously known as Majestic Place. Developer Gene Pfeiffer suggested he would build north of the Lloyd Expressway, west of University Parkway.
The project on the west side of University Parkway would feature a large mixed-use development, but has since been put on hold because of lack of sewage.

"They haven't submitted detailed plans, but the back side of the development is residential with commercial up front toward University Parkway," Stoll said. "It is on hold, and I'm not sure if they have changed."
Before other future developments can take hold, sanitary sewage would need to be completed.
City planner Brenda Hill said that other developers have yet to file anything.
Musgrave, whose district encompasses western Vanderburgh County, including the university campus, said she had always hoped the university would take part in the development.
"In my view if I were USI-oriented, I would be looking at buying options that face the parkway and thinking about research facilities, student housing and other support buildings," Musgrave said. "I always anticipated that USI's trustees and leadership would be interested and active, but I will tell you I haven't seen evidence of that."
The university and local residents have historically been against any proposed parkway developments.
Under the previous President Linda Bennett's administration, former Finance and Administration Vice President Mark Rozewski spoke out against rezoning efforts in 2013 unless a master plan for the corridor was configured.

"USI is one of the only universities in Indiana that was master planned from its conception, and the results are breathtakingly obvious," Rozewski said at an April 11, 2013 meeting. "We see great opportunity with Vanderburgh County to develop a master plan for the area of the west side around the university, so that the whole is much greater than the sum of its parts."
A development plan was introduced in summer 2017 and completed in summer 2018.
According to the university's final master plan presented to the Board of Trustees in March, no university buildings would be developed on the parkway corridor.
"The University has no plans to expand student housing or support buildings on University Parkway," university spokesman Ben Luttrull said. "All plans to expand student housing and support buildings are in line with the USI Campus Master Plan."
In a public notice dated from Monday, Vanderburgh County Commissioners, the Evansville-Vanderburgh County Area Plan Commission (APC), and the Evansville Metropolitan Planning Organization (EMPO) announced a partnership to develop University Parkway Corridor Management and Land Use Plan.
A special meeting of the Evansville-Vanderburgh County Area Plan Commission (APC) about the University Parkway Corridor plan draft will take place 5:30 p.m. Sept. 27 at the Civic Center Complex in the Administrative Building.
On top of the September special meeting, the county's commissioners will hear a presentation of the plan from consultants and take comments from the public at 3 p.m. Oct. 2 in the Civic Center Complex.
The county has not yet established a timeframe or preferred route for the extension to I-64.