Looking beyond: home is where the van is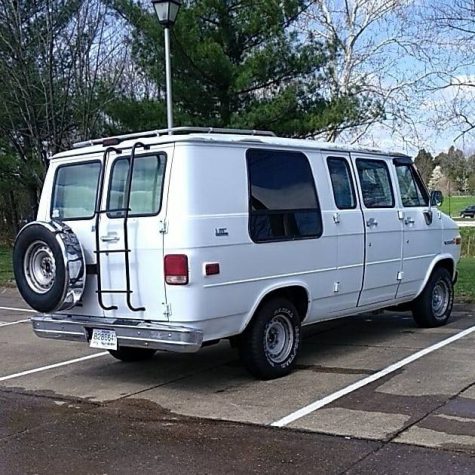 Photo courtesy of Lauren Wojcuich
Every week The Shield will showcase students and their hidden hobbies and talents. This week, Lauren Wojcuich spoke about her plan to travel the States in her van. 
Lauren Wojcuich's dream home has four wheels and an engine.
Having recently converted a 1992 GMC Vandura into a stealth camper van, the junior communication studies major plans to stay in the van during the summer and then live in it full time once she's graduated. She plans to run an online business so she's not restricted to living in one area.
"I want to take away what makes me comfortable and challenge myself," Wojcuich said. "It feels like something I have to do, like I'm sure many feel like they have to get their career started right out of school or they have to start a family, and to each their own. I have to travel the U.S. in this camper van. Personally, I couldn't choose a job or life path without seeing enough first, and I've seen so little."
Wojcuich bought her van back in September with the plan of turning the Vandura into a camper van but has been planning her project as early as the spring of 2017. She developed the idea for her project when she gained an interest in tiny houses and van dwelling videos from shows such as "Tiny House, Big Living" and #vanlife Youtubers.
"I thought about how cool it was and that I wish I could do that," Wojcuich said. "And then I realized I could."
Wojcuich said the process of turning a van into a home is a fun project.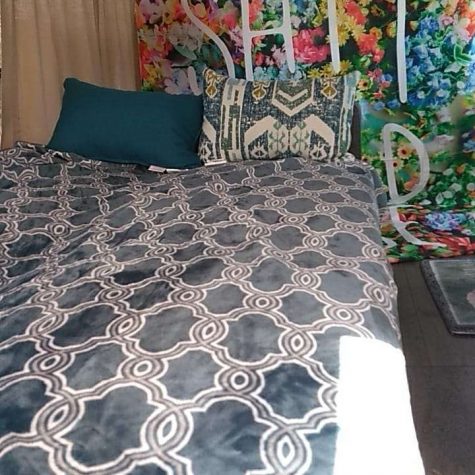 Photo courtesy of Lauren Wojcuich
"I wanted to do something fun," she said. "The goal is to explore what I might like, visit places I might fall in love with, expand my horizons and meet lots of new people."
The first step for Wojcuich after purchasing the van was to clean it thoroughly, then insulate the inside of it and put in laminate flooring and wood paneling on the inside walls in order to turn the 1992 GMC Vandura into a small room. Next, she put in a futon, a tapestry, curtains and decorations.
Wojcuich still has work to do, but she says that it is currently liveable. She plans to build cabinets to place behind the front seats of the van for a kitchen area, along with her propane stove.
"This is unlike anything I've ever done before," Wojcuich said. "My life has changed a lot lately. However, I've noticed the common denominator on my happiest days is traveling."
Friends and family have been very supportive of Wojcuich's unique lifestyle goal. She said that they have been nothing short of supportive to her. Her father flew in a few weeks ago from Florida to help and that her parents are completely behind it as long as she is safe.
Sebastian Sturgeon said that he thinks Wojcuich's van project is really cool.
"I'm stoked to see her fulfill a dream that she has envisioned for so many years," the senior communication studies major said.
Friends of Wojcuich have offered their showers and driveways for her to use.
Kandace Wedding thinks that the van project is a very creative idea and a great way for Wojcuich to live some of her dreams.
"She has been putting in a lot of hard work to be able to travel and have a place of her own that she can afford,"  the sophomore sonography major, said. "I don't think it's for everyone, I wouldn't like it, but it works for what she wants."
Back in February, Wojcuich visited Colorado in order to experience something different from Indiana. She said it made her realize how incredible she felt seeing new things and how much more she enjoyed the mountains than the beaches of Florida or the fields of Indiana.
"I want to see every type of landscape so I know what I want to surround myself with," she said. "Right now, Colorado Springs is my favorite place, but I'm confident I will find the place I belong and create a travel plan for years to come and find out what really makes me happy."
Since Wojcuich plans to start living in her new home this summer, she has had to plan out her new way of living. She said she will have a class on Wednesdays at USI and an online class during the summer and will have to contribute six-day trips to stopping at stores for internet use.
She will be sleeping in friends' neighborhoods, specific apartment complexes, Walmarts that allow overnight parking, national forests, state parks and wherever she can find a place to park her van to stay overnight.
"The beauty of my van is that it doesn't look like anything suspicious," Wojcuich said. "It doesn't look like a camper, but you open it up and it has insulation, hardwood floors and a futon. You don't want to make anyone uncomfortable with the knowledge that you live in your van, so you have to make sure you don't park where you're going to make anyone feel weird."
Wojcuich is confident that Evansville will be an easy place to dwell with a van as a travel home. "I feel safe here. I have been surprised with the overwhelming support of the people I love in me doing this," she said.
Wojcuich plans on using the USI Rec building to work out and shower. Her only expenses will be gas, food and insurance. She will no longer have to pay for rent and plans to keep earning income by selling pinback buttons.
Wojcuich also wants people to know that if she can pull off this project, then anyone can do it too.
"This project is my house. It's everything I've ever wanted and when I graduate it will take me to every national park, every state and wherever I feel like going that day." Wojcuich said. "This summer will be my first big test run. And I can't wait."