Looking beyond: 'I have big things to say and I don't think my paintings should be small'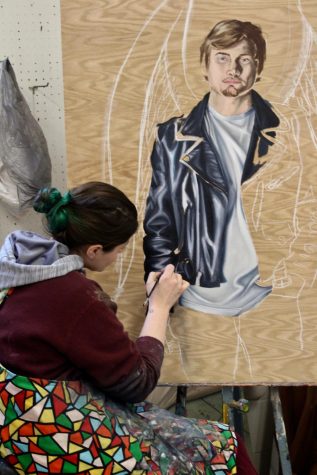 Megan Thorne
Every week The Shield will showcase students and their hidden hobbies and talents. This week, The Shield spoke to Livia Alexander, the senior art major with an emphasis in studio art and art history, about her painting talents.
The Shield: Why did you get into painting?
Alexander: Mainly because it's what I've always done. When I was a kid I had a little plastic desk that was in the kitchen that I would draw on and paint with watercolors and we put them on the fridge and I've always been drawn to paint, I don't really know why. I really like 2D, mainly because I like creating something out of almost nothing. I like fooling people, especially with me being a very realistic painter and rendering things spot on. I think I just like tricking people with painting.
The Shield: Did it start out as a hobby?
Alexander: I've only ever wanted to be two things ever, obviously being an artist is one of them, and the other is I wanted to design roller coasters because I played Rollercoaster Tycoon, and I was like "oh my gosh" because I love thrill rides and stuff. But then I was like "there's math involved," so I went pretty much went to art. I had some feelings of maybe I'm not good enough and maybe it's not the right profession to take and it's going to be difficult, but I can't see myself doing anything else. It's something I'm good at.
The Shield: Have you had any work in galleries besides the Student Art Show?
Alexander: I did, but it's over now. At the beginning of this year, I had a painting in St. Louis and that's like the first big gallery, I say big but not that big gallery, but out of this state and this area that I've ever done, and it was weird. I was amazed I got in because 45 were chosen out of 450 which included internationally too, so I was pretty happy about that. I don't think I won anything at this, but I'm not sure. They had very bad communication. Something I learned was that they were not friendly, they were not helpful, they didn't communicate well and I think I got a sense of my future. I just learned that it's a big difference between your professors who say "here look at this show and do this and go here." It was kind of fend for yourself, and that put me in the reality of I have to do this myself. Really communicate first hand and not rely on other people to do or tell me things.
The Shield: What type of paint do you generally work with?
Alexander: I only work in oil. I sometimes do the underpainting in acrylic just to map out values and then I go back with oil and make it more seamless and smooth. I really like texture so if something is smooth in real life it needs to have that smoothness or strands of hair, so I map out values and go in detail with oil.
The Shield: What do you like most about painting?
Alexander: I like that I don't have to interact with people that much. I think any hobby or profession that lets you express yourself like art does is amazing because you can do anything, make anything and people love it. And that's another thing that when you tell people you're an artist they're excited to see your stuff, and they're so interested. I think this area is getting more supportive of art, and I think it's the community. It's a hobby and a profession that has a community, and it's easy to make friends and have people to talk about your hobby with or talk about your profession. I think the community is my favorite part about being an artist. We are all very like-minded people who have a passion.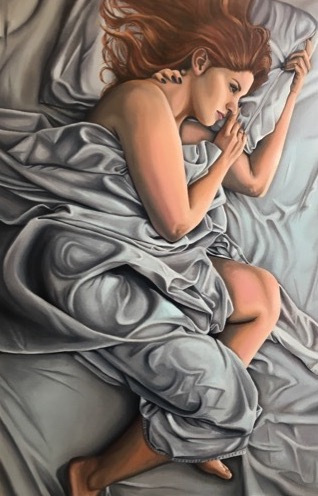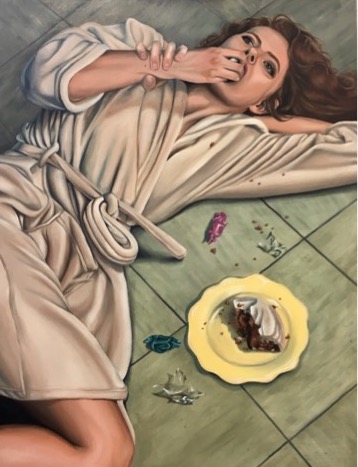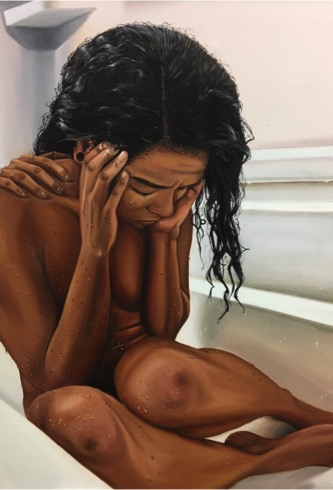 Grip of Oizys, Livia Alexander
The Shield: How long does it take you to create your works?
Alexander: Depends on the size. For the three females, it took August to January, which I have one in the show. But if you're a hyperrealist like I am you do a lot of layers and a lot of detail and spend a lot of time fixing the little bitty things. That's why I charge so much for painting because if you think about man-hours, it's 50 at least. I could probably work smaller to make my work more affordable but I like big stuff because I don't like to be looked over. I think I have big things to say and I don't think my paintings should be small.
The Shield: What are your plans after graduation?
Alexander: I'm going to try to get the Efroymson Bridge Year Fellowship where the university gives you like a whole calendar year and $10,000 to create a portfolio to perfect to go to grad school. They also give you a solo exhibition at the McCutchan Art Center/Pace Gallery, so I think that right now I'm proud of the work I make, but you have to have 15-20 pieces of quality work. When you first start out at college it's so assignment-based that it's not stuff that you want to put that represents you and with me being so methodical and me only producing a couple paintings a semester I don't have the bulk that I need to apply. So with that and the $10,000 to do whatever I want, who wouldn't want to do that and with a solo show it just seems like a really good opportunity. This summer I have an internship at the museum downtown, and then probably go to grad school somewhere on the east coast away from here.
The Shield: Are you wanting to go into museum work?
Alexander: I am open to anything. I don't really want to give myself one goal. I think I need to be open to things that come my way. You never know what you're going to enjoy until you fall into it. I really like gallery work, I like working with artists and I like producing an outlet for artists to show their work to the community and to other people, not only for selling work but for introducing the community to art. I wouldn't mind teaching at all either. I think my main goal would be to at least be a part-time artist and definitely do other things whether that's curation or teaching, which would probably at the collegiate level because then I could use a master's degree for that.
The Shield: Do you have a favorite series that you've done?
Alexander: I enjoy all of them. I really like my female ones right now just because they are so detailed, with the sheets and the water droplets and the cake crumbs, I like all those little details. But I really love my hands series. That was a real turning point for me in my visions of my paintings because I didn't know what I wanted to say before, and I think I was caught up in what other people wanted to see in painting and what I saw people doing, whether that was around me at school or on the internet and I wasn't sure what my voice was yet. I think when I thought of that I was having a lot of passion about being a woman because it was in a time when I think Trump was campaigning to be president and all this stuff came out, and I was like this is BS. I usually have very long fingernails and I remember people telling me I can't do things because I had long fingernails. I would be in the woodshop and they'd be like how are you gonna pull apart this and how are you going to do this with those long fingernails. I'm not as delicate as the world thinks I am. That's why I put my hands in situations that are typical male jobs and hobbies like a car engine. I took something so gross and compared it to a beautiful lace doily and pink backgrounds to have a juxtaposition visually of what we think is feminine versus masculine.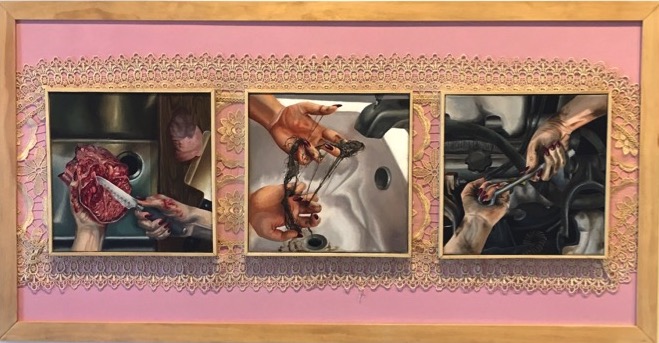 Women's Work, Livia Alexander
The Shield: Do all of your series and paintings have themes to them?
Alexander: I usually try to comment on something social or personal in my life that can be a social issue with the Oizys series. It's about anxiety and depression and not only me but my other female friends and Oizys is the Greek goddess of anxiety, depression and suffering and all three of them have a third hand that represents a mental manifestation of Oizys and having a grip on you and you don't know why but it's a manifestation that you create. You know it's not on the outside, it's within but you can't let it go and I think there's something poetic about that.
The Shield: Did you have pieces in the Student Art Show?
Alexander: I had two pieces in the show, but I didn't get my other two in. I think rejection breeds humility and from what I've done being an artist and being in an art history major I've watched a lot of interviews of artists and been like you're an asshole and I really wanna have a lot of humility and be a successful artist, so I'm not too upset.