Five full-time sheriff's deputies to patrol campus starting next year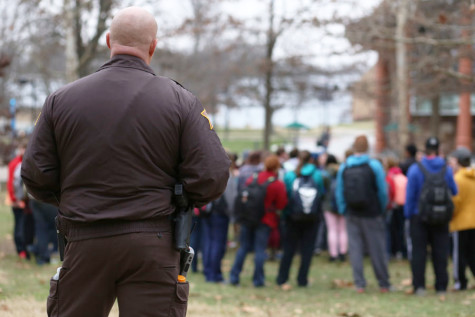 Amid confusion on the potential location and presence of a new Sheriff's Office on campus, Vanderburgh County Sheriff Dave Wedding wants to set the record straight.
"You can call it a district or a post, but we haven't determined what we are going to name it yet," Wedding said.
Wedding said the VCSO's new venture on the updated office is still a work in progress.  
"We currently don't have any concrete plans and we are going to be flexible in how we start this," Wedding said. "Law enforcement's effort and campus policing will be a collaborative effort between USI and the VCSO."
Five sheriff's deputies will be assigned strictly to the University of Southern Indiana campus beginning at the start of the next academic school year.
"Their permanent duty to work at the Southern Indiana campus will be to patrol and go through the campus as always, making rounds," Wedding said.
USI President Linda Bennett told The Shield in October after the state allocated $750,000 to boost the university's security programs in 2017, a newer police post would be added somewhere on campus.
Director Emeritus of Public Safety Steve Woodall also confirmed to The Shield in October that Public Safety will mutually share a new facility with the VCSO. Woodall, a former VSCO deputy sheriff himself, said he envisioned the new office somewhere closer to the apartments.
"The building location is going to be more visible and better equipped," Woodall told The Shield in October. "I envision it on the east side of the campus, by housing, so we will be in a more central area."
However, Director of Facilities Operations Jim Wolfe told The Shield in March that the new VCSO office will be added to the preexisting Public Safety Office, breaking with comments from both President Bennett and Woodall.
In a recent interview with The Shield, Vice President for Finance and Administration Steve Bridges said the timeline on certain pieces of the new VCSO facility are still in the works.
"It's very possible it could be a standalone unit or potentially close to a parking garage," Bridges said. "That hasn't been completed or decided yet."
Bridges said that the project is "down the road in the master plan." He also said final details are in the works about how best to communicate with the new force.
"VCSO is looking at radio communications and what's the best method to communicate," Bridges said. "The location is what we are working on and that will take longer, but we hope to have that completed as soon as possible."
Sheriff Wedding said that the decision on the new post is ultimately up to the university.
"The building is irrelevant," Wedding said. "If USI decides to build another public safety building I'm all for it, but that's not my call, the sheriff's office does not deal with capital improvements."
VCSO will be tasked with patrolling over 300 acres of university-owned property, alongside Public Safety officers already in place.
"We want to enhance security and safety of the campus," Wedding said. "We have entered into an agreement with the USI to fund deputy sheriff's starting in the fall semester."
Wedding said he wants his office to complement the work of Public Safety.
"We are working with (Public Safety Director) Steve Bequette right now because it's no secret the current violence on school campuses from elementary schools to colleges and universities," Wedding said. "I think as law enforcement we have the duty to protect education."
Wedding said deputies will be placed strategically across campus along with their squad cars, and they will be "noticeable."
"The deputies on the campus will take the initial call," Wedding said. "We will be able to make that presence better to help deter crime."
Wedding said one of those ways to strengthen security is not that their presence will be extreme but that VCSO will be better equipped to respond more rapidly than from coming from a far distance.
"Being there and creating a presence on campus will be beneficial," Wedding said. "Interacting with the students, and having some information relayed to us if something is wrong or a miss because of those relationships we developed."
The university is going to be considered an area that has an assigned deputy, Wedding said there has been confusion among how best to describe those future security improvements.
Wedding said the VCSO will have to change on the fly about what is being seen or changing on campus. With new leadership expected to be announced the first week of April on USI's fourth President, Wedding said that work is still in progress.
"It's going to be by experiencing it and working with it," Wedding said. "The new president chosen this year may have a different mindset when they take over."