Candidates stress communication, inclusiveness ahead of election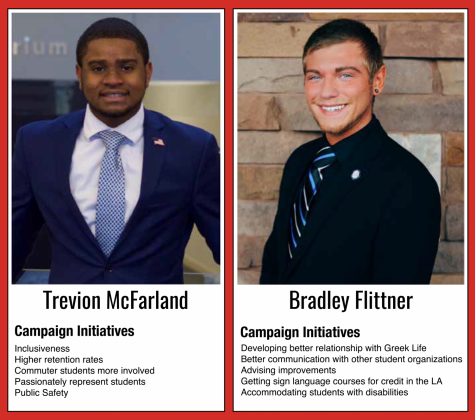 Photo Illustration by Abigail Stanley
Election season is here and it is heating up.
Candidates for the SGA elections are now campaigning and will try to get the support they need before the elections begin Apr. 9.
Students will be able to vote on candidates for President, Vice President, Chief Financial Officer and Attorney General along with Representatives from each college and Administrative Vice Presidents through Apr. 15 by email.
Sophomore political science major Trevion McFarland and junior business management major Bradley Flittner are both running for president.
"While being here on USI's campus, my heart gets so full when I think about all the opportunities, all the great people that I've met and how I know that this positive impact that I've had in the last two years will further my growth if I get elected," McFarland said.
McFarland is currently a member of the Political Science Society and the Vanderburgh County GOP. He also serves as treasurer of the university chapter of Turning Point USA, a conservative nonprofit organization and is on the Indiana Civil Rights Commission advisory board.
He was formerly the Administrative Vice President of University Affairs for SGA but resigned earlier this semester due to "personal reasons."
"I think that being in these positions will help me if I get elected SGA President because I know what it means to serve," he said. "I know what it means to roll up my sleeves and do what needs to be done and do it the right way."
McFarland said one of the things he hopes to change about SGA is to make it more productive.
"If we are going to meet every Thursday, lets come to the table with things of importance to talk about and not waste people's time and talk for 30, 45 minutes and talk about nothing," he said. "Let's do something and lets benefit the student body,  and I think that if I get elected to this role, me and my executive team will execute that."
McFarland said that another one of his priorities is to establish better communication with students, student organizations, fraternities and sororities.
"It all falls back on communication," he said. "We need to make sure that the things students want to see on campus are done. There are things from a student government prospective that we can't see that presidents of fraternities can see and deal with."
He said he also wants to stress inclusiveness on campus along with gaining higher retention rates and getting commuter students more involved.
"Whatever decisions we make in that boardroom will affect the lives of every student on campus so everyone should feel included on those meetings, no one should feel left out, no one should feel like they don't have a voice," he said.
McFarland recently talked to fraternity Lambda Chi Alpha at their chapter meeting about his campaign when someone asked how he would support the LGBT community.
"I told them that I am in full support of the LGBTQ plus communities along with students with disabilities, along with minority students on campus and I want to make our campus inclusive for all these individuals," he said.
McFarland said they thought that by mentioning those other groups he was comparing them which was not his intent.
"I was ill-prepared," he said. "My uncle just died that day. I didn't want to reschedule on Lambda Chi so my mind was just everywhere."
He denied claims that he is anti-LGBT and said he will do whatever he can to make sure they feel like they are a part of the campus in every way possible.
A debate for presidential and vice presidential candidates will be held March 29 at 6 p.m. in Kleymeyer Hall.
The other presidential candidate, Flittner, he wants to represent all students fairly and equally and make sure all students have their voices heard.
"Our slogan is one goal, one passion with 'goal' being to represent and 'passion' being the student body," he said.
Flittner has been involved in SGA for two years, serving as a Business Representative before being elected Executive Vice President in last year's election.
He said his experience as Vice President helped prepare him for what he will face as president.
"The biggest problem I am going to have is watching everybody else do the jobs I used to do," he said. "I think the transition will be hard mainly because it's a very different position. I would be working more with the administration which I am actually looking forward to doing."
Flittner said he hopes to do more work within the Evansville community if he is elected.
"We are trying to reach out to the community more and let them know that we are here in hopes that we can bring some of the Evansville community back into the USI community to strengthen our bond."
Whoever is elected as the next SGA president will work with USI's next president, who is expected to be chosen the first week of April and will replace current president Linda Bennett.
"I think one thing that will be very fortunate for us to have the transition from an old to a new president is that we can bring up those things that in the past we have been shut down for," junior business administration major Bailey Anderson said.
Anderson running alongside Flittner as his vice president although they will be voted on separately.
She is the president of Archie's Army and a business representative for SGA.
"The main reason I want this position is not because I want an executive position but I just want to make a difference on campus," she said. "I want to leave USI knowing I helped make a change on campus that will benefit future and current students."
Election turnout is typically low with only eight percent of the student body voting and last year's election and six percent the year before.
Chief Justice Katie Stahl is head of the Election Committee which sets the rules for candidates along with handling any violation of those rules.
"It really hurts that more students don't get involved," she said. "On one hand you can't make students care but on the other hand they should care."
Stahl said she hopes to get about 15 percent of the student body to vote in this year's election.
"I think it comes down to students just not caring enough which is really sad because they don't understand the impact that student leaders have," she said.