Social activist talks importance of advocacy
The students in Carter Hall listened as Tia Oso, the director of impact at Revolve Impact and an outspoken social justice activist, spoke about the methods of creating social change at the 2018 Nelson Mandela Social Justice Day Wednesday night.
Oso's speech included discussion on Martin Luther King Jr.'s book 'Where Do We Go from Here: Chaos or Community?' which was written over 50 years ago in 1967.
"A lot of the things he addresses in the book are issues that we are addressing now around racial inequality, around poverty, around militarism and also around our lack of unity and community," she said.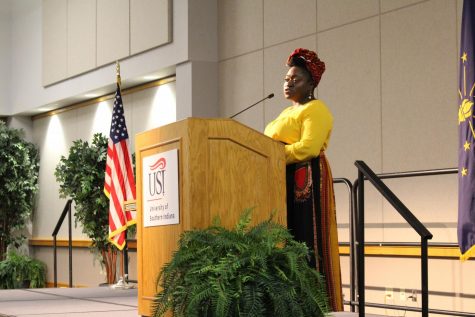 Oso, who has worked with movements like Say Her Name and Black Lives Matter, said poverty is the most pressing human rights issue in the country right now. She said politicians have not done enough to support people who are poor immigrants along with those on medicare, medicaid.
"It really is eroding those types of basic human needs around healthcare and food," she said. "Those are social safety nets that we've had for a while and when the people who are most vulnerable can't get their needs met, it drags down the rest of our society."
She said advocacy and civic engagement are important mechanisms for social change, specifically by voting, lobbying and calling out elected officials.
Senior English major Kate McKinney said Oso had some really practical advice about organizing social movements.
"The goals are lofty but she brings them down to a level where people can see themselves participating," she said.
McKinney said there too many issues that people can't fight alone and Oso encouraged her to get out of her comfort zone.
"I don't ever call my congresspeople," she said. "It annoys me that we have to do that. We have social media, why can't they follow hashtags? People's opinions are out there but they're not seeking that information and so you have to take it to them."
A strong medium for civic engagement has been through social media. Oso said is a powerful tool to surface conversation and let the public's voices be heard.
"Whenever you are able to raise awareness and raise consciousness of an issue, it can help lay the groundwork for public policy that's going to be responsive," she said.
She said the most effective method to encourage social change is to have a conversation with people both for and against one's ideology. She also said getting people involved with protests like rallies, marches and even highway shutdowns are also productive for social change.
One of Oso's most high profile activist moments was when she interrupted a town hall event with former Maryland Governor Martin O'Malley and Vermont Senator Bernie Sanders, both of whom were running to be the Democratic presidential nominee at the time, to advocate for the Black Lives Matter movement.
"Those things are important because they are disruptive, they get people's attention because they cause a problem for the broader public that's not being directly impacted necessarily and that's really important because a lot of the conditions that these communities are facing are very serious," she said.