'We are the ambassadors'
International Food Expo features global cuisine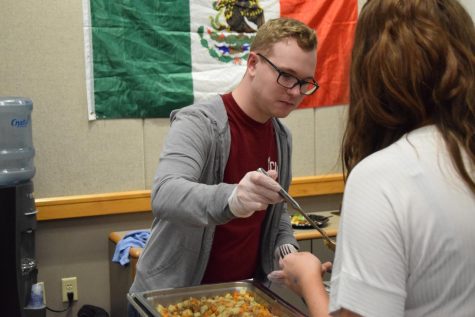 Jordan Auker
Countries in the shape of footprints lined the way to the Food Expo located in Carter Hall to offer a chance to share cultural diversity with students at USI.
The Food Expo allows international students to share their food, clothing, music and entertainment. Entertainment included a fashion show of traditional attire, singing, dancing and games. USI Alumni visit the university to experience this event that is held each year.
"The food expo is our international Christmas. Everyone gets so excited for it, people dress up, they decorate their booths and make their food and it brings so many people together," senior social work major Cailan Walters said. USI students volunteered their time to help international students operate their table and ensure that everything ran smoothly such as handing out food and being on deck in the case of an emergency.
Countries such as Bolivia, Saudi Arabia, Kuwait, Turkey, Tunisia and more offered food, prizes and games to guests that walked by and offered a quick history lesson on their country. "I think it is very important to be aware of the culture that is on campus," Walters said
For some students preparing food took longer than expected.
"We started making the food on Thursday night and we finished exactly when the Expo started," Nohemi Chumacero Mancilla said. The Bolivian cuisine was a combination of rice, meat, beans, and potatoes with a salad. Most tables also offered ethnic food for students with dietary restrictions.
"We are the ambassadors of our country and we have to represent our country in a good way," said engineering major Mobarak Alazemi. He is from Kuwait.
"Everyone was asking for food, and at the end, everyone was asking to try the food again. It was amazing," said junior English teaching major Omar Gonzales. Gonzales is from Honduras, and his booth had food, history, photos and traditional clothing.
Biology major Rishab Sehgal is from India. "It was really exhausting preparing food, and we spent four hours in the kitchen preparing the food and it wasn't enough, so we had to wake up at 6 a.m. and prepare the same thing which took another four hours." For most of the tables, their food was gone towards the end of the event, while people were still browsing around.
"We had people come back again and again to get more food," Sehgal said.
Alex Lopez is a graduate student and president of the International Club. "We had no difficulties, everything went smoothly. My officers helped me and volunteers."
International Club began planning for this event in January. By using social media and posting on the USI campus page, International Club was able to advertise this event to a broader audience.
This event normally has around 500 people attend, but this year International Club believes they sold over 500 tickets. "We met our goal, this event is perfect we have the right amount of booths, we have the perfect amount of volunteers. I am really happy with this," Lopez said