Give blood, give back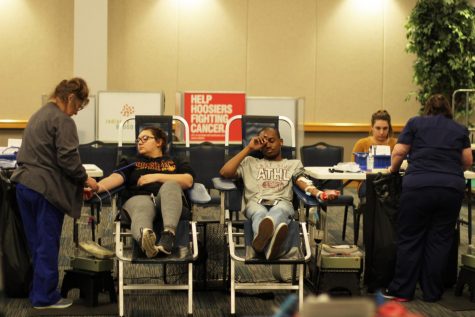 Jalon Dowell
Conner Rose and Sarah Brayshaw had blood on their minds as they spent their morning in Carter Hall Jan. 23.
Rose, a freshman geology major, and Brayshaw, a freshman nursing major, came to the Indiana Blood Center's blood drive ready to donate.
Brayshaw, being no stranger to donating blood, had to convince her boyfriend to come. He'd never donated blood before.
"I'm not a big fan of needles at all," Rose said.
It wasn't until he got his wisdom teeth out recently that he ever experienced an I.V. in his arm.
"The needle from the I.V. being in my arm so long made me realize that maybe it wouldn't be so bad to donate blood," he said. "With a little convincing from Sarah, I was ready to do it."
Brayshaw said she is starting to lose count on how many times she has donated blood, but knows she is creeping toward the double digits. Being in the nursing field, needles and blood are a constant part of the students' life.
"We actually tested our blood for class yesterday but I already knew what I was due to donating so many times," she said. "I just love it."
Brayshaw joined Rose as he sat himself in chair. Shane Morrison, the Team Lead with Indiana Blood Center, prepared Rose for the blood donation. With tenderness and skill, Morrison stuck the needle in Rose's arm, gave him a stress ball to squeeze in order to promote circulation and left him with his fresh blood filling into a unit of blood.
Morrison has been working with the Indiana Blood Center for the past thirteen years and coming to assist in the university blood drives for the past 10 years.
"We do at least four blood drives a year," he said. "Our goal today is to get about 50-60 people out."
Morrison said donating blood is the easiest thing that you can do to give back to those in need. It costs nothing except for a little bit of time.
"Even after donating there are snacks and drinks and an occasional free shirt," he said. "How can you beat that?"
The couple remained close as Rose was finishing up his donation.
"There are always those first-time nerves about this but my best advice is to research it and ask an experienced person," Brayshaw said. "That's what I did with Conner. I just informed him and told him it wasn't that bad; they're going to take good care of you."
Conner was released after his donation and sent to the snack table to get a refreshment and relax for 10 minutes. Each donor is sent to sit down for a minimum of 10 minutes post giving blood to ensure they are not light-headed or going to faint.
"It wasn't so bad," Rose said. "I'm glad I got around to finally doing it."
As the couple left the hall, more and more students started trickling in. Future blood drives will be announced via postings on-campus event boards.
Leave a Comment