Longtime leader to retire
'Time does catch up with you'
Noah Alatza, Community Engagement Manager
January 19, 2018
Cynthia Brinker walked around her office in the Byron C. Wright Administration building on a cold but sunny Friday morning.
Laughing and pointing out pictures from years past at the university's Higher Education Day at the Indiana Statehouse, her office houses hundreds of items of memorabilia. From a signed State of the Judiciary pamphlet from chief justice Loretta Rush, to three abstract framed paintings from American painter Stephen Pace, Brinker has physical pieces of the heart of her work for the university.
As one of the university's highest-ranking officials, Vice President for Government and University Relations Cynthia Brinker had just announced plans to retire by the end of the year.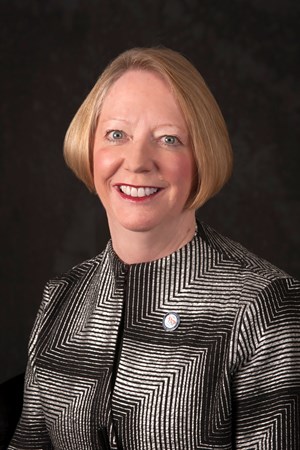 Brinker has been with the university for 39 years, and said that now made the most sense to enter the next phase of her life.
"I was here with President (David) Rice, President (Ray) Hoops and President Bennett, (and now) we are now in the process of hiring a new president," she said. "It seemed like the right time with a new president coming in to allow that person to put together the team he or she would have for several years."
Before entering academic administration, Brinker served as the personnel director that opened the first Hyatt Regency hotel in downtown Indianapolis.
Over the course of her near 40-year career, Brinker has worked alongside all three university presidents and six Indiana governors.
"That opportunity to interact with so many people, and represent various institutions, that has been incredibly positive," she said. "Not only are they your colleagues, they are your friends, I will miss it."
Brinker joined the university in 1979 as the director of human resources. By 1991, she was promoted to assistant vice president for business affairs, becoming the primary legislative liaison in local, state and national politics for the university.
Brinker said President Bennett's decision to leave at the end of the academic year did not dictate her recent decision.
"I had thought about it for a number of years, but that was not the guiding factor," she said.
Brinker was originally hired by Byron Wright, the university's previous vice president emeritus for business affairs and treasurer.
Brinker recalled a flustered Wright, who ultimately picked her to lead the university's government relations team.
"I could just tell something wasn't clicking," Brinker said. "(Wright) didn't find the right person to do the legislative piece. So he called me and goes, 'I think I want you to do this,' and I said 'do what?' and he said, 'I want you to do the legislative piece.' I go, 'I don't know anything about doing that.' He goes, 'That doesn't matter, you know USI, I know you, and I know you can do it.'"
Brinker worked under Wright for 12 years before being promoted as the university's chief government liaison, a job she said she never imagined having.
"It was something I wasn't familiar with," she said. "But because of the people I worked with and knew me, they believed that I could do it. So I think that changed me from the standpoint I probably could have always done it, but there was such a great support system within the institution."
Her first legislative session in the Indiana General Assembly began in 1992.
Most recently, Brinker has served as vice president for the last ten years. She has been the university's top surrogate at the Indiana Commission for Higher Education and the State Budget Committee, while also overseeing university communications and relations team.
Brinker said she hopes the university's next president would carry on the tradition of the institution's past successes.

"Because we were growing at the time, we weren't really steeped in a whole lot of tradition and so if you had an idea, or wanted to try something you were encouraged," she said. "I hope we continue to have that kind of entrepreneurial spirit at the institution because it keeps you fresh, and sharp and engaged, and I think those are very important to have on the job."
She has served on numerous committees and boards including Keep Evansville Beautiful, Girl Scouts of Southwestern Indiana, and the Government Affairs Committee of the Southwest Indiana Chamber of Commerce among others.
"Time does catch up with you," she said. "My husband worked at the university and he has been retired for several years. It just seemed like everything fell into place."
Brinker's last official day on the job is June 30, 2018. She will spend the remainder of her term on sabbatical leave through Dec. 31, 2018.
"People keep telling me, though," Brinker said, "it's going to be okay."