Have empathy for victims of wildfire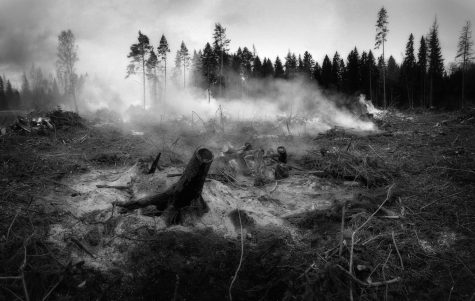 Imagine losing everything you own to fire. Your home, your clothes, your vehicles and other personal effects, irreplaceable family photos and heirlooms – all burned away to ashes.
Everything you have worked for your entire life is gone.
This is a devastating reality for thousands of people on the west coast and Pacific Northwest as wildfires are raging into their neighborhoods and destroying lives in the process.
The 2017 wildfire season is the worst on record so far. It is estimated that over 2 million acres have already burned to ash – destroying natural habitats, displacing residents and wreaking havoc on air quality.
NPR reported in September that there were, at one point, as many as 123 wildland fires, with around 25,000 responders, forest firefighters, and National Guard deployed to deal with the crisis.
There are so many fires burning right now that the smoke can be seen, like a veil over our country, from space. NASA posted images online of the smoke clouds traveling along the jet stream.
Most of these fires are along the west coast of California and in the Pacific Northwest in states such as Washington and Oregon. There are also fires reported in several other states including Idaho and Montana, and one currently burning in West Virginia.
The fires are being fueled by hot, dry conditions and unrelenting winds. In California alone, there are 11,000 firefighters working eight large fires.
When trying to collect the most recent data on the amount of acreage currently burning in the continental United States, I found an interesting website which gathers data from multiple sources.
The National Interagency Fire Center gets information from agencies such as FEMA, National Park Service and the United States Forest Service to keep a running total of disasters in our country.
The NIFC site has year-to-date statistics on the number of reported fires and total acreage affected. This information is updated daily and assesses our National Preparedness Level on a scale of 1-5. That number is currently a 3.
It is nearly impossible to not have an overwhelming sense of empathy for those who are affected by the wildfires. It is incredibly hard to see their tears and initial reactions as they return to their neighborhoods and approach the rubble of what used to be their homes.
Granted, they are lucky to have escaped with their lives, and some even expressed gratitude for simply being alive.
After all, things are replaceable – even homes.
If you are interested in helping some of these families rebuild their homes and lives, there are several places to donate online. Some of them include the Napa Valley Community Disaster Relief Fund, Redwood Empire Food Bank and the obvious agencies such as the American Red Cross and the Salvation Army.
For a complete list of organizations seeking cash donations, volunteers and other disaster relief, go to PBS NewsHour at pbs.org.