Spirit goes a long way for women's ultimate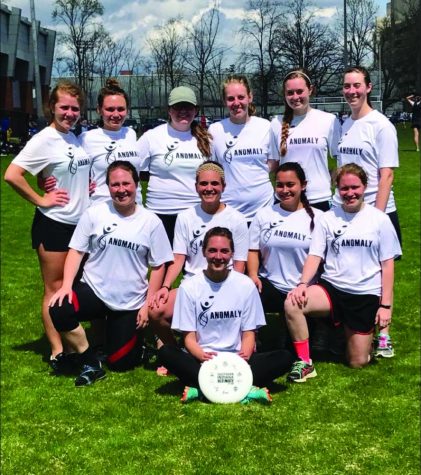 The USI women's ultimate frisbee club is approaching its fourth year of existence. Women's ultimate is still the only all-girls club sport the university offers, but it's thriving nonetheless.
Initially, the women and men played on the same ultimate frisbee team, but at the end of the fall 2013 semester, the women on the team succeeded to form their own team.
Anna Steurer, a member of the first women's ultimate frisbee team, said she feels all aspects of the team have improved since the inaugural year the USI women's ultimate frisbee club.
The team, which plays under the moniker of "Anomaly" still faces the typical challenge club sports face, the ebb and flow of recruitment and retention.
"We tend to get a lot of players right at the beginning (of the semester), and they slowly decline in numbers," Steurer, a 2017 USI alumna and current team coach, said.
But things are trending upwards. When Steurer was on the first team, the women struggled to field seven healthy players, which is required to compete in a match.
Now, the team has more than 15 members, and of the nine that joined this semester, only two have left.
"Everyone is devoted to (the team)," Steurer said. "We don't have anybody on it that comes some of the time and not other times. We're all committed to making the team better."
Current club vice president Ellen Cech said something else that's changed for the team over the past few years is the amount of athleticism players have.
"We came from a team that had girls that weren't athletic before joining the team, and now we're getting girls that were playing in state championship (games) during high school," the junior nursing major said.
The added athleticism helped. The team is coming off a historic season for USI women's ultimate frisbee.
Last semester, the team competed in its first-ever women's ultimate frisbee sectionals held in Indianapolis.
"We did really well for being a nobody school," Cech, who's is in her third year on the team, said. "We were facing schools like Notre Dame and IU… We're getting really good at holding ourselves against them."
Though they didn't win, the members of team Anomaly haven't lost sight of the spirit of the game.
There's a creed all ultimate frisbee teams follow from the USA Ultimate rulebook and website.
It states that: "Ultimate relies upon a spirit of sportsmanship that places the responsibility for fair play on the player. Highly competitive play is encouraged, but never at the expense of mutual respect among competitors, adherence to the agreed-upon rules or the basic joy of play."
For the club to continue to succeed, the member's can't lose sight of that.
"If you lose spirit, then your team goes downhill," Steurer said. "I've seen many teams play that are just rude and not nice to play with… Being one of the most spirited teams, that I've ever seen, at all of the tournaments, that really helps us."