Blood donors exceed expectations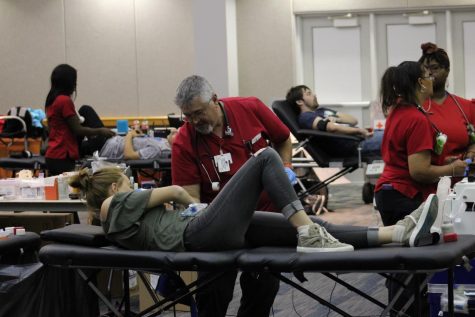 Bayleigh Wessel and Travis Smith sat at the entrance of Carter Hall, awaiting the arrival of more blood donors.
As students began to file in line, pop music filled the air, creating a light, comfortable environment for all those who were taking part in the fundraiser.
The Sophomore Dietetics major and Junior Communications major are members of Greek Chapters Delta Zeta and Kappa Alpha Order.
The chapters hosted a community blood drive on campus Monday as a fundraiser for their Greek organizations. The event was a collaborative effort, with Delta Zeta and Kappa Alpha teaming up with the American Red Cross.
Makenna Gries extended her efforts for the event by both helping organize and donating blood.
The sophomore Respiratory Therapy Major and Delta Zeta member began donating in high school, and has since donated 6 times.
"I've been in the hospital before," Gries said. "They never have enough blood."
Though the event required extensive communication between organizations and many hours of planning and spreading the word, the hard work paid off with the number of students who signed up to donate.
"We filled up our table sheets within two days, we were planning on being out all week!"  Allison Graff said.
The sophomore Nursing major was in charge of the recovery station, along with Sophomore Delta Zeta sister Allison Tooley and Junior Kappa Alpha member Cameron Phaffmann.
The three students explained just how much they enjoyed being able to organize a fundraiser that gave so much back to the community.
"It's (also) a lot of fun working with other Fraternities," Tooley said.
Delta Zeta had teamed up with Fraternity Lambda Chi Alpha last year, but decided to partner with Kappa Alpha Order this year.
"It establishes a relationship between all Greek Life," Tooley said. "We really enjoy working with one another."
Leave a Comment