Archie's Army to fly from the nest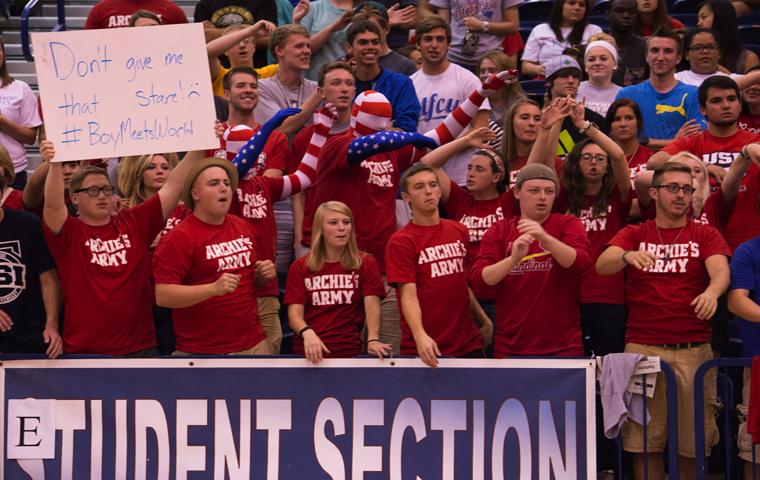 Bailey Anderson said Archie's Army's process to become an organization is nowhere near what other organizations have to do.
The Student Government Association general assembly voted to table a resolution Thursday that would remove Archie's Army, a student cheer group for athletics, as a standing committee from the SGA bylaws.
Anderson, Archie's Army president, said her reason for authoring the resolution was to give the committee more freedom from SGA in terms of funding and events.
According to the SGA bylaws, "No committee may take action without the consent of the General Assembly."
"I won't have to bring up any resolutions or anything like that (to take action)," Anderson said, who is also a Business College representative for SGA. "At the SGA meetings, we will be considered our own organization so it will be funded through athletics."
Archie's Army will also be eligible for travel, student organizational support and start-up grants if the resolution passes.
"Previously we have been funded by both SGA and Eagle Athletic Support," she said. "This past year we discussed moving Archie's Army into their own organization, so at the end of the year we created two budgets; one with Archie's Army in SGA and one without, with the budget only being Eagle Athletic Support."
In order to become an organization, there must be a minimum of five interested students, an on-campus adviser and an "Intent to Organize Form." A constitution for the proposed student organization must also be submitted to Student Development Programs.
Anderson said the process to become an organization is more difficult for Archie's Army because the committee has to be removed from the SGA bylaws.
"Once that is removed they can approve us as an organization and we can be recognized as one on campus," she said.
Archie's Army currently has about 20 members, but Anderson said hopes to acquire more full-time members after she saw a lot of people interested at the Involvement Fair Wednesday.
"I want to grow not only through members internally," she said, "but I also want to grow externally as in we have more participation at events and get more students out to the games to support athletics."
A vote will be held next Thursday at SGA's weekly meeting to decide whether the organization will remain with SGA.
Archie's Army's first meeting is at 5:30 p.m. Sept. 15 in Rice Library room 0017.