Cultural camaraderie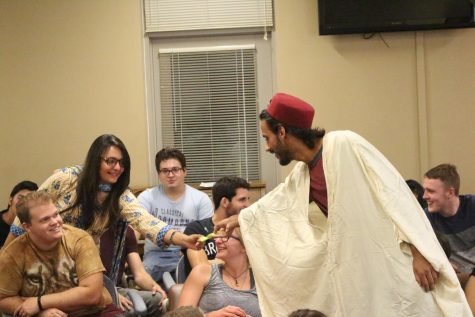 Megan Thorne
A group of students chatted to friends and strangers beside them. Surrounding the semi-circle of students were foreign foods with foreign smells. Students glanced around staring at the unfamiliar sights around them waiting in anticipation for the upcoming events.
Resident Assistant Virgilio Paulino stood in front of the crowd and began to grab their attention. Slowly the students hushed, the lights dimmed, and two students began to speak. The two students were Kais Boukthir, a freshman photography major, and Balkis Chaabane, a freshman international studies major, both native to Tunisia.
"You meet the people, you meet their cultures, you eat their food, you talk to them, the actual people," Boukthir said with confidence as his eyes lit up at the chance to say more about the culture night."It's an exchange."
Boukthir and Chaabane began their presentation and spoke passionately about their home. From its ever-differing landscapes to the acceptance of religions and races and as well as issues that cause problems even in our society.
The night was filled with shared stories and camaraderie–the very essence of culture night.
Culture Night occurs every other week in the Ruston multipurpose room put on by the international students of the Global LLC. There are new cultures, experiences and food every time. Culture night is open to all students on campus.
Nicole Vernon, programs coordinator for USI and coordinator of culture night, watched from the back of the room as culture night fell together.
Vernon said she believes events like this have a positive impact on the university community.
"During the events that happened in France about two years ago, we had a French culture night that happened right after that," Vernon said. "The students wanted to have a moment of silence. We had people from all over the world, different religions and things like that that had come together. And nobody was mad at each other and everyone came together."
Vernon said it's things like this that are the reason culture nights exist on campus.
As this specific culture night was focused on the small North African country of Tunisia, students learned about Tunisia and how Chaabane and Boukthir work to bring their culture into the university community.
Balkis Chaabane prepared all the food for culture night in her friend's apartment.
"I left some of the food I cooked for her… and in Tunisia, my culture, if you cook at somebody's house and they have already smelt the food and it smells good, you have to leave some," Chaabane said as she explained how she is incorporating her culture into USI life.
Not only are they expressing their culture, but the Tunisian students are representing their country to Southern Indiana.
"It's a lot of responsibility because if I do something wrong, people will think all Tunisians will do that," Boukthir said. "While it is a lot of responsibility, it's also an honor because not every Tunisian can do this."