Indiana universities release statements on executive order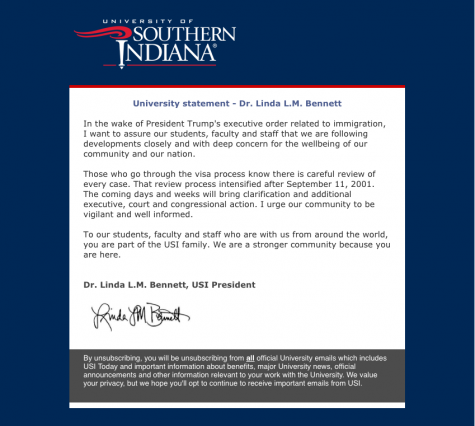 President Linda Bennett released a statement through email to the entire campus community Monday afternoon regarding the recent order banning immigrants and refugees from the United States.
Indiana University, Purdue University, Ball State University and Indiana State University also published statements in some capacity. Locally, the University of Evansville released a statement as well.
The executive order set forth by President Donald Trump halts immigration from Iran, Iraq, Libya, Somalia, Sudan, Syria and Yemen for 90 days. It also bars Syrian refugees indefinitely and all refugee admissions for 120 days.
Though each university created a statement within a similar timeframe, the stances in each differed.
Bennett's statement took no stance on the issue, but simply told the campus community that developments were being followed closely and with "deep concern for the well-being of our community and our nation."
"Those who go through the visa process know there is careful review of every case. That review process intensified after September 11, 2001," Bennett said in the statement. "The coming days and weeks will bring clarification and additional executive, court and congressional action. I urge our community to be vigilant and well-informed."
Purdue, UE and IU's statements all took a straightforward stance asking that the order be revoked or reversed.
UE's statement said the order contradicts the university's inclusiveness.
"We urge the administration to rescind this order, and we encourage political leaders from all parties and branches of government to strengthen the protections that our nation has historically extended to immigrants and refugees who want to improve their lives by working and studying in the United States," the statement said.
Purdue President Mitch Daniels and IU President Michael McRobbie's statements also urged that the order be removed.
Daniels, former governor of Indiana said in the statement that the order "is a bad idea, poorly implemented."
Out of these universities, IU, Purdue and Ball State made the statements available through Twitter, Facebook and their university websites.
UE has the statement posted to Facebook and its website.
The university's statement was posted to its Facebook page, but it does not appear on usi.edu.
Currently, there are two Libyan students and one Yemeni faculty member on campus. University Communications said those members of the community did not wish to speak to media organizations at this time.
Purdue's statement said about 100 of its 400,000 students and 10 faculty are from the countries named in the ban.
UE currently has students from Syria, Somalia and Iran.
"To our students, faculty and staff who are with us from around the world, you are part of the USI family," Bennett said to end her statement. "We are a stronger community because you are here."
Leave a Comment