'People-focused' trustee backs importance of education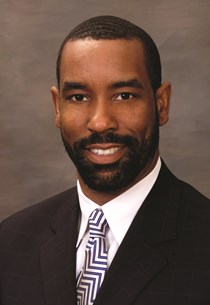 Ellis Redd believes education is an equalizer.
"It doesn't matter who you are, or where you come from, an education can level the playing field and help you achieve things that you probably otherwise wouldn't achieve," Redd said. "I'm an example of that."
Redd, the newest member of the USI Board of Trustees, is happy to find himself working in education again. He previously served on the Evansville Vanderburgh School Corporation Foundation board.
The 52-year-old said he is "extremely honored to be named the new trustee." Gov. Mike Pence, who decides on all board members, appointed Redd July 1.
Redd was raised by a single mother in Martinsville, Virginia. He is the youngest of nine children and was the first in his family to attend a four-year university.
He paid his way through college and in nine years after graduation, he had paid off his student loans.
"But if it wasn't for (college) then I wouldn't be in the position that I'm in," Redd said.
He graduated from North Carolina A&T State University in December 1986 with a bachelor's degree in industrial engineering. A year later, Redd was hired in Evansville at Mead Johnson as an engineer. He has been a resident of Evansville ever since.
Redd eventually returned to school and earned a MBA from Washington University in St. Louis, Missouri.
Redd has served on numerous committees, councils and boards. He is the current vice president of human resource and administration for Vectren Corporation and is the current chair of the Welborn Baptist Foundation.
Serving on the Welborn Baptist Foundation board is when Redd first met the chairman of the board of trustees at USI, Jeffery Knight. Ron Romain and Harold Calloway are trustees who also serve on the Welborn Baptist Foundation Board.
Knowing Knight, Romain and Calloway has helped Redd transition into his new position.
Redd is confident he will be able to connect with all the board members.
"I think I'll fit in very nicely because I consider myself more of a people-focused person," Redd said.
He said he wants to focus on student experience and thinks he can bring critical thinking skills to the group which he's acquired over his career.
Knight is pleased with Redd's addition to the board. He said Redd has a collaborative leadership style and is going to bring some  perspective to the board.
"He's an incredible human being and he'll serve the University of Southern Indiana well," Knight said.
Redd said being a member of the board of trustees is a high ranking accomplishment for him.
"USI is a very fine institution," he said. "It has the ability to impact lives."