Dancing for a cause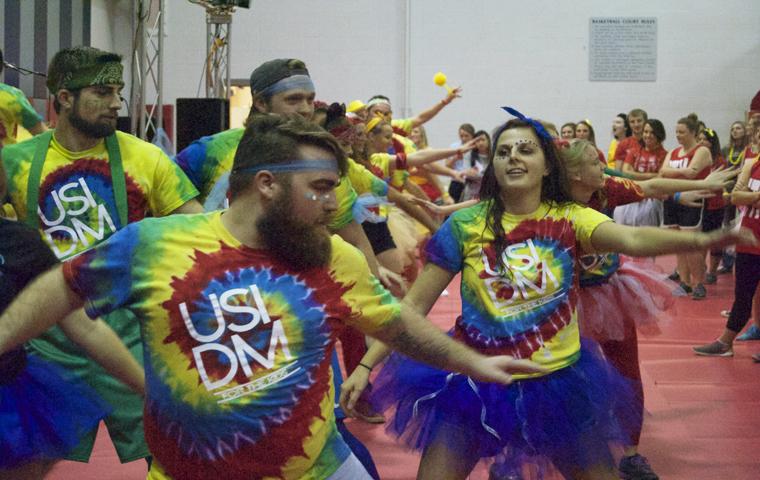 Gabe Wittmer plays hockey, basketball, football and baseball, is eight years old and has been a Riley kid since before he can remember.
He stood off to the side of the RFWC Saturday with his mother, Peggy Wittmer, and gazed across the gymnasium at the inflatables.
"It's pretty neat," he said, holding fast to his mother's hand at USI's annual Riley Dance Marathon.
This year, the dance marathon participants raised $39,117.44 for Riley Hospital for Children in Indianapolis.
Peggy, an audiologist at Midwest ENT, said Gabe was diagnosed with a hernia of his diaphragm before he was born. Once born, scans showed that Gabe's liver had gone up into his diaphragm. He had surgical repair at Riley at the age of one week.
Thanks to Riley Staff, Peggy said she was able to take Gabe home after two months of intensive care.
While Gabe and his family walked toward the inflatables, a circle of students raised their fists and chanted, "FTK, FTK, FTK."
Girls in green tutus, necklaces and facepaint posed, once with lips pouted and then again with wide smiles. They scrutinized their phones, shook their heads and decided to take another picture.
"Green team, are you ready?" said senior finance major Terrance Lewis over the crowd. The students stopped what they were doing and an immediate reaction of cheering met his shout. The gym's partition slowly lifted to expose a small stage.
Students sprinted forward in a swarm to the tune of "Eye of The Tiger," and Lewis instructed the audience to sit down after another round of "FTK" chants.
As the university's Dance Marathon President, Lewis told the students about Ryan White, a thirteen-year-old boy who contracted AIDS from a blood transfusion. He was treated at Riley and died in 1990. Ever since, schools hold the Riley Dance Marathon in memory of his life and his struggle.
"FTK," Lewis said. "It's 'For The Kids.'"
During a Riley Dance Marathon, participants stay on their feet for hours playing games, writing encouraging notes to current Riley patients, hearing stories about Riley patients and learning a line dance.
"Ryan wasn't the last kid at Riley," Lewis said. "That's why we dance still today."
The marathon lasted from noon to 10 p.m. Each hour, an individual or a family helped by the Riley Hospital such as the Wittmers shared their testimonials.
Freshman photography major Taylor Webster waited in line to write messages on giant cards for current Riley kids.
"My brother is a Riley kid," she said. "I'm writing different things for each kid. There are a couple of them that I know."
This is Webster's third year of involvement with the Riley Dance Marathon.
"I started in high school," she said. "I wanted to continue it in college. That was one of the biggest reasons I chose to come to college here. Riley has helped us more than words can express."
In the corner of the gymnasium stood a black 'Inspiration Tent,' a small enclosure filled with dim string lights and electric candles. Posters hung around the inside, some with success stories, some posters commemorating lives lost. Several students throughout the night spent time in the tent writing letters to families.
While heading the event, Lewis remembers his friend and Riley patient, Sarah Cohen.
"I met her in seventh grade," he said. "She was terminally ill … she made me promise her that I would do (dance marathons) until I couldn't."
As a college senior, this is Lewis' last year serving at a dance marathon.
"These children have much harder lives than us, and that's an inspiration," he said. "As happy and healthy as I am, I can still be unhappy. These kids are kept happy by the staff of Riley. It's cool to help them be an inspiration, and for me to be an inspiration for them."