'Steve Jobs' talks fast, says little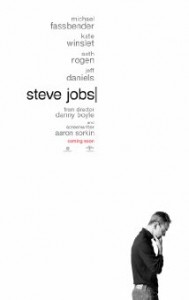 "Steve Jobs" advertises itself as a stylistic look at the life of Apple's  infamous co-founder. The film is told in three parts, each part depicting the 40 minutes prior to three of Jobs' more influential product reveals (the Macintosh, Black Cube and iMac) at technology conventions.
In all honesty, that summary is a nice way of saying the majority of this film's run time is Steve Jobs (Michael Fassbender) and Joanna Hoffman (Kate Winslet) walking through backstage corridors and dressing rooms, occasionally interrupted by flashbacks to places outside of the theater.
Danny Boyle (director of "Trainspotting") flexes his creative muscles by presenting each third of the film in a different format. The Macintosh section is shot on gritty 16mm, giving an older, more independent look. After Jobs has been fired from Apple and starts NeXT Computers Boyle switches to 30mm, giving a crisper look. The final segment is shot digitally.
Aaron Sorkin ("The West Wing") adapts Walter Isaacson's controversial biography of Jobs in the only way Sorkin could: by turning every character into fast-talking, pop-culture-reference spewing Muppets. Sorkin is a fantastic writer who is good at crafting witty characters, but in recent years he's had a tendency to write annoyingly witty characters.
Every person has an incredibly obscure fact, pop-culture reference, odd rhetorical question or wild rant to fire back whenever a question is asked. This is quite fun if you're new to his writing style, while also quite grating if you've watched a few episodes of "The Newsroom."
I consider "Jobs" to be the same kind of film as last year's Oscar bait, "Birdman." Both are vehicles which allow incredibly talented people to showcase that talent outside of the confines of a normal Hollywood production.
For all of its incredibly well-executed acting, cinematography and directing, "Steve Jobs" tells the world nothing new. Steve Jobs was an incredibly intelligent ass who was somehow capable of loving his close friends while also showing zero empathy to those around him.