Students for Life holds second protest
 The university allowed Students for Life to silently protest in their classes Tuesday with professor discretion and even sent out a mass email to faculty through the provost's office.
The students participating wore tape over their lips that read "Life." The protest was a part of the eleventh annual Pro-Life Day of Silent Solidarity.
The pro-life student organization also hosted The Planned Parenthood Project earlier this month on the Quad, which raised controversy.
"(The protest) is a national thing," Students for Life President Laura Schwindel said. "Honestly, it's not really for campus."
Schwindel said its purpose was not for campus to benefit but for students to stand for what they believe in.
"Like when the Twin Towers were knocked down, (U.S. citizens) had a moment when they were silent," she said. "They dedicated the whole day to it. We're doing it for the unborn."
Schwindel said Students for Life had the right to participate in its protest no matter what.
"We didn't need permission," she said. "It is freedom of speech. We are choosing not to speak. It's part of the Constitution, and it's a state university."
An email sent out by the provost's office notified faculty that students would be participating in the Day of Silence, but it was ultimately each professor's decision to accommodate them.
Junior English education major Lauren Abney, who began a counter protest to Students for Life in the Free Speech Zone, wrote that her unofficial group's silent protest promotes being pro-choice.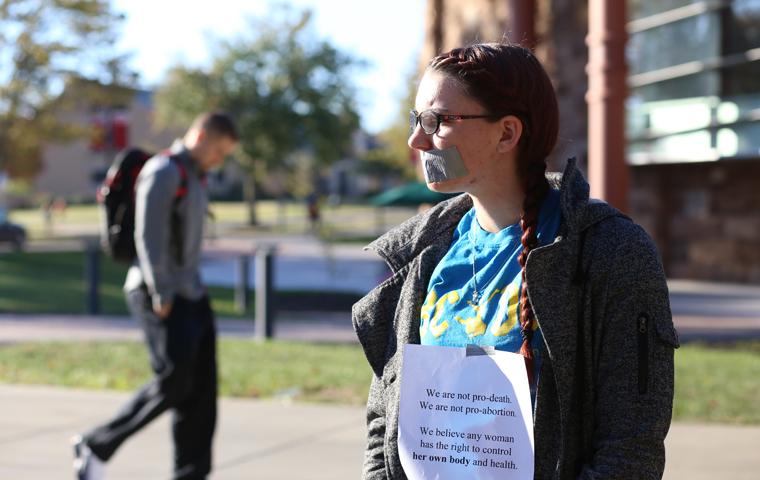 "The Free Speech Zone is where silent protests should be demonstrated," Abney wrote. "However, I find that troublesome if the whole campus is not a 'free speech zone' in itself. (The university) claims to be a campus where new ideas should be discussed appropriately, with proper argument and research."
The counter protesters had tape over their mouths as well, but the word "Choice" replaced "Life."
"The fact that their protest goes over a narrow outcome for women's health, yet they wish to protest freely all over campus, is controversial," Abney wrote.
Assistant Professor of Psychology Amie McKibban oversaw the Human Equality and Animal Rights group for several years until the students interested either left or graduated.
She said she found the Students for Life Protest to be taking the idea from the Gay, Lesbian and Straight Education Network. GLSEN's Day of Silence dates back to 1996.
"I find it somewhat offensive that they borrowed that concept that already represents a small group of people who are silent for fear of rejection and unsafety," McKibban said. "There's the idea of representing silence for unborn fetuses. A lot of the women who have to terminate pregnancies suffer in silence."
She said the university wasn't always clear about why students weren't able to hold events in specific areas.
"Occasionally (the students) would run into problems not getting responses back and not being able to use certain areas for silly reasons," Abney said.
"They were told they could only march around the Quad for their silent protest to not be disruptive."
Crystal Steltenpohl, a 2011 USI graduate, was president of HEAR during her time at the university.
"I remember us having a lot of trouble scheduling events beyond simply finding an appropriate space," she said.
"The general consensus of those involved in the organizations I was involved in was that it was due to the nature of our groups and the events we held."
Steltenpohl said for most of the controversial events her group held, they focused on providing fair representations on different sides of an issue and letting people decide their stance freely.
"HEAR did a silent march a few years ago on the Day of Silence (about LGBTQA issues)," she said. "The university allowed us to walk around the Quad with signs and tape over our mouths."
The group did not seek anything more than usage of the Quad for that day.
"We did our best to work with the university and within their guidelines and rules," Steltenpohl said. "We never asked to go into classes. We always asked for professor permission and in all cases my professors said yes."
She said activist activities shouldn't be brought into the classroom especially if they are disruptive.
After hearing that the provost's office notified faculty about Students for Life's protest, Steltenpohl said the process oversteps classroom boundaries.
"If we had tried that with regard to our same sex marriage protests, we would have been told a flat out no, guaranteed," she said. "I wouldn't support (bringing the protest into classrooms) regardless of the topic or position…and I'm sure the university would have said the same thing if we tried it."
Contrary to Steltenpohl's account, former dean of students Angela Batista said the provost's office did notify faculty during the protests Steltenpohl was a part of.
"We sent out something to faculty and staff," Batista said. "We let faculty know some students would be choosing to be silent. Students were required to communicate with faculty."
Batista, who left the university in Spring 2015 said the Free Speech Zone is only for events not sponsored by the university or official student organizations.
"If anybody is quiet, there's no need for them to be in the Free Speech Zone," she said.
During Students for Life's presentation of the Planned Parenthood on the Quad, men from the Gideon Society were handing out Bibles at crosswalks, which confused some students.
"(It was) in no way connected to Students for Life," Christine Hoehn, director of religious life, said. "I don't think the Students for Life knew the Gideons would be there on that day, and I didn't realize it when we scheduled the Gideons in August."
Hoehn said she doesn't think the Gideons were ever disruptive.
"They see this as a service," she said. "They've been very good about it. If people find it to not be helpful, that's not how the Gideons want it to be."
She said she personally hasn't received complaints, but she heard of one instance of a complaint to the Dean of Students Office.
"One person complained he said no, and he felt like he was being pressured to take the Bibles," Hoehn said.
Hoehn came to the university in 1999, and she said the history of the Gideons coming onto campus existed long before her arrival.
Hoehn also said events sponsored by religious life are mostly approved by the university, and the Gideons have been visiting campus for so long that it's not questioned by faculty.
"If it's a problem, if it creates any uproar or if it upsets people, that's not how we want our organization to be," she said.
Bobby Shipman contributed to this story.
About the Writer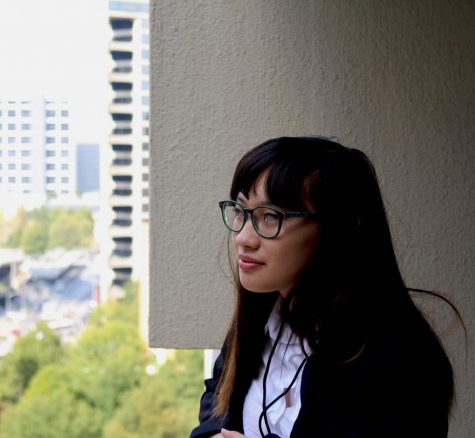 Gabi Wy, Editor-in-Chief
Gabi Wy is a junior majoring in journalism and criminal justice.