Students voice thoughts on controversial Quad display
Laura Schwindel wanted the Quad and only the Quad for the visual display protesting Planned Parenthood Sept. 30.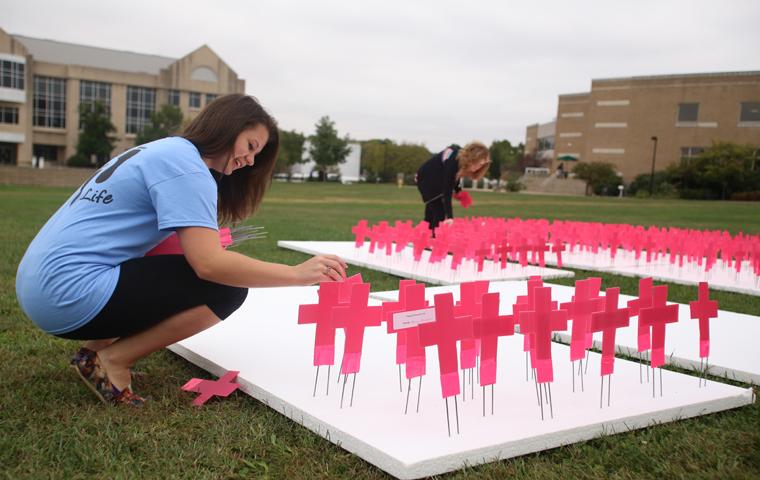 The Students for Life president said the university Scheduling Services pushed for the event, entailing pink crosses, banners and handouts, to be held in the designated Free Speech Zone between the UC and the Orr Center.
"I said, 'No, I want it on the Quad,'" the junior elementary education major said. "I fought for it."
Reactors took to social media to express confusion over university policy on event locations.
"There is a free speech zone? Is that a real thing?" commented Stacey Kandel on Facebook. "I'm sorry, I was under the impression the United States of America was a free speech zone."
The Free Speech Zone allows outside speakers or groups not authorized by the university to speak or set up displays on campus.
Eddie Rodriguez supported the Students For Life's use of the Quad on Facebook.
"These people weren't protesting, they were just being (informative about) abortion and doing a small memorial for lives lost because of it," he commented. "No megaphones and shouting were involved."
Senior social work major Katie Richardson commented on a previous story by The Shield that she was upset about this organization using the Quad while others have been delegated to the Free Speech Zone.
"This won't go unnoticed," she commented. "It's absolutely biased that a political and religious standpoint on this issue was allowed clearance onto the quad to perform a protest. We want answers."
Marcia Kiessling, associate provost for Student Affairs, said the Free Speech Zone is for speakers not affiliated with the university or a recognized campus organization.
"The (Planned Parenthood Project) wasn't an outside group wanting to do free speech," she said, "it was a student organization and students planning an event."
She said there would be no reason to deny a group rights to the Quad, given the group is not disrupting campus activity or property.
According to the Student Handbook, any organization authorized to hand out flyers or handbills cannot "hawk, shout or accost individuals" or "obstruct pedestrian or vehicular traffic."
Freshman Gabi Baker said she did her best to avoid the Students for Life's pink display, but felt the task was nearly impossible.
"Since it was in the Quad, (I) passed by three times," the exercise science major said. "I tried to not make eye contact."
Freshman Mariah Winne said while walking to her dorm after classes, she couldn't help but resent the display every time she passed it.
"It makes me angry," she said. "I don't want it forced in my face."
Senior Jordan Taber commented on The Shield's previous article that some of the Students for Life were pushy in getting people to accept their handouts.
"When I said "no thank you" to a pamphlet," the English and French major wrote, "as I was walking away, I heard another girl tell her, 'You can't take no for an answer!' The quad, which is usually full of fun and students, was that day turned into a somber and awkward shuffle to class."
The display hosted by Students for Life travels the nation and visits college campuses to expose "lies" Planned Parenthood tells the public, said Students for Life of America regional coordinator Anna Held.
The pink crosses on the Quad reflected those 897 daily abortions, calculated from the Planned Parenthood annual report for 2013.
Nationally, Planned Parenthood and the subject of its abortions and alleged fetus harvesting are under the media's microscope through videos and statistics.
The videos, which portray Planned Parenthood as secretly selling body parts of fetuses, sparked debate over how accurate the information is. Some people question the validity of the video evidence and if the footage is heavily edited.
"Planned Parenthood doesn't want to own up," Held said. "They say they're a women's health clinic, but they perform 897 abortions every day. They're making their money and profiting from women in crisis."
No matter what students are protesting and where they do it, Brandon Adams commented on Facebook that every event is essentially the same.
"To be completely honest, any type of protest or gathering will probably have a bad reputation because I would say the majority or college kids, including myself, don't care and don't want to see or deal with them," he wrote. "I don't think it matters where you're at; it'll be met with the same reaction."
About the Writer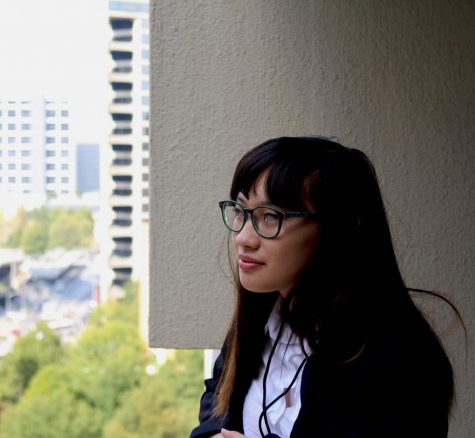 Gabi Wy, Editor-in-Chief
Gabi Wy is a junior majoring in journalism and criminal justice.