Home is where the heart is
Abigail Suddarth
September 1, 2015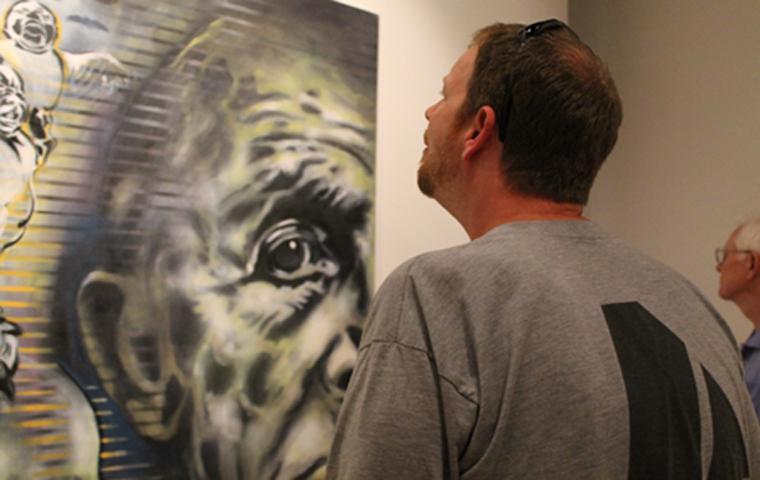 The McCutchan Art Center/Pace Galleries' most recent exhibit "Back Home Again: Recent Works by Former Art Faculty." Features artists that had to create a brand new piece of artwork for the exhibit.
The exhibit was open from June 1 to Aug. 31.  A reception for the exhibit was held Aug. 27.
Thirteen of the twenty-four exhibiting artists were present having traveled from the other side of Evansville or from as far as Maine. Over 100 patrons came to the event throughout the evening.
Mark Brendel, who designed the promotional posters and postcards for the event, created a miniature black house, with white letters reading "Back Home Again" and with backpack straps on the opposite side.
"It's like having home on your back," Brendel said. "It took about two or three weeks to make, on and off."
The piece, like most of his work, was made from recycled wood. His art is inspired by a question or a problem and his reaction to it.
As for the backpack, it is in fact wearable.  
"I wore it on my back to the gallery when I brought it here," Brendel said.  "I may wear it out when I pick it up."
William Leth, from Pennsylvania, displayed one of the first pieces he'd created when he started working at the university in 1980 rather than exhibiting a recent piece.
The piece was called "River Under 'O'" and was etched off of a sheet of glass.  
"The side [of the glass] with dominant light is reflective," Leth said.
The back side of the glass  was placed over a black slab and hung from the wall. In this way, light couldn't get through. The light could then shine through making the visible side with dominant light, reflective, Leth said.
Artist John McNaughton said he carved two wooden busts titled "What The Hell" as a satirical response to an elderly couple that he saw on his most recent trip to Florida.
"They look annoyed, a little disoriented, and angry at life," McNaughton said.  "Both of them have a butterfly landing on them to add a little humor like the butterflies are attracted to them.
McNaughton said he began carving the male bust in March and once he'd finished he began on the female, which he finished a few weeks ago.
Anita Powell, who worked at the university from 1994 to 1999, designed "4 of 5" which was a five-piece clay sculpture that took about five weeks to create.
Powell said each piece was a different style of dress with the face of a woman painted on the front and an object pertaining to her on the back.  
"For instance the Mom has a pie image on the reverse side," Powell said. "This piece was inspired by stereotypical gender roles as portrayed in popular culture over a period of time and it speaks of both their perceived strengths and weaknesses."
Powell, whose mother was her first art teacher, said that she'd learned to draw before she even learned to write.