$10,000 grant funds new app for Blackboard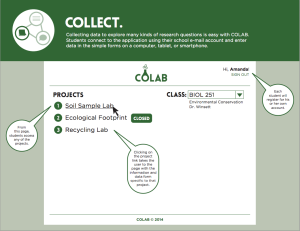 Katherine Winsett grew tired of working her classroom lesson plans around third-party digital materials.
After a call for higher-education proposals fell in her lap, the USI biology instructor chose to act on an idea she had been stewing over for a few years.
She enlisted a team of two USI students to design a visual-led proposal for Colab, an application that will facilitate research in classrooms on a larger and more frequent scale.
"All students need to know what research is – experience research and data. But, we don't do enough of it in classrooms. It's limited to labs," Winsett said. "I wanted to be able to do research in my big classes, have students collect data, analyze it and come up with conclusions."
The problem with gathering a class-wide data set where students analyze their own data, as well as the rest of the class's, is the amount of clerical work it takes, Winsett said.
"Students can submit the data to Blackboard. Then I have to go in and make a spread-sheet, (and) I have to make the spread sheet available to everybody. You can only do that so many times in a semester because it takes time," she said. "This application will do it automatically."
Winsett's proposal won in the "New Models of Content Curriculum Development and Sharing" category through Instructure – an educational technology company, which granted her $10,000.
Winsett said she has become accustom to writing scientific proposals driven by language.
"(Instructure) sounded like they wanted something visual, which is not my forte," she said. "But, there is a lot of talent on this campus, so I reached out and asked for some names."
Junior graphic design and interactive media double major Amanda Brinkman and art graduate Kristina Fitzgerald showed interest.
"I explained what the proposal needed to be, and they came up with the design," Winsett said. "I told them, 'I like green.' That was about my input."
Fitzgerald remains at USI through Efroymson, a contemporary arts fellowship which required her to apply to graduate school.
She said her and Brinkman worked hard to get the proposal in on time.
"We were working on a short deadline," Fitzgerald said. "We started, I think, in December, and this was the time I was trying to graduate and get all of my final projects in."
Fitzgerald said Brinkman came up with the initial logo and branding based on one of her sketches.
"I was trying to think of something scientific, something that would utilize the word collaboration in some way, which is how we came up with 'Colab,'" she said. "We were thinking cooperation labs, collaboration."
The logo uses the 'O' in Colab as a beaker with ball-and-stick models of molecules coming out of it.
Winsett, Brinkman and Fitzgerald said they plan to continue working together to create the application for Blackboard with the help of computer programming students at USI.
"I really didn't want to go to some professional computer programmer and pay them to do this when students on campus have the ability," Winsett said. "I don't have any programmers lined up but it's in the works. I have ideas. I am hoping someone will just fall in my lap."
Winsett said she hopes Colab positively impacts the classroom despite its "simple" function.
"I think it is something a lot of teachers could fit into what they do. The only purpose is to collect data and disseminate it automatically," she said. "It is something that has a lot of potential."
Winsett said Colab could assist teachers in every facet of education.
"The idea of collecting data is universal. It doesn't matter if you're a science student or an art student, an English student or history student," she said. "We come at new information by gathering evidence and drawing conclusions. In all of those classrooms, you can find ways for students to collect information about the world around them and look at it. It doesn't have to come from a textbook. It doesn't have to be a data set someone has already made. We all gather information all the time."