Warhol pictures on display in gallery
Hang on for a minute...we're trying to find some more stories you might like.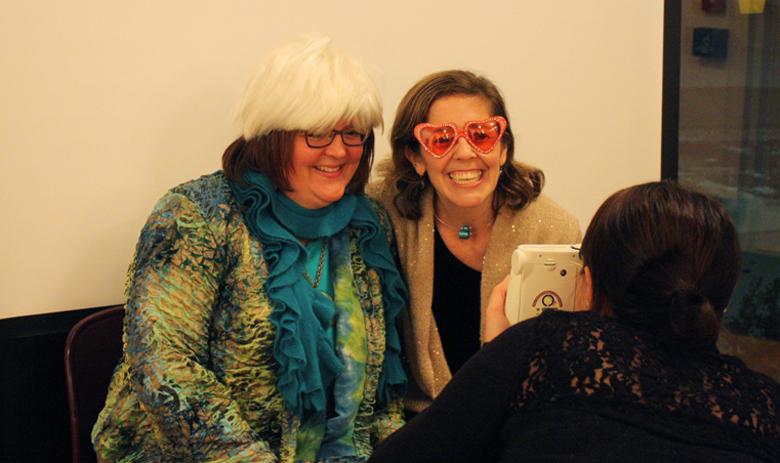 USI's "Andy Warhol: Photographs and Prints from the University Collection" began its residence at the McCutchan Art Center/Pace Galleries with the display's grand opening on Jan.23.
Students and faculty can experience an array of photographs and prints donated to the university by The Andy Warhol Foundation for Visual Arts to commemorate the foundation's 20th anniversary in 2007.
"They had these photographs and they decided they'd distribute some to institutions, such as USI," said Kristen Wilkens, curator of the exhibit. "They distributed something like 26,000 photographs out of the 60,000 estimated to be in his (collection)."
Andy Warhol was a 20th century artist known for his interest in the glitz and glamour of pop-culture.
The inspiration for Warhol's famous silkscreen prints came from his Polaroid photographs of celebrities.
Wilkens said she was excited by the arrangement they chose for the showing.
"If you walk and look at how the series is laid out, they almost read like film," she said. "It is very much like video art,and you can actually kind of see how the model was being manipulated."
The exhibit also features the interactive installation "Silver Clouds," based on the 1966 collaboration between Warhol and engineer Billy Kluver, in which viewers can immerse themselves in wonder by standing amongst large, silver, pillow-shaped "clouds."
English Instructor Kevin Allton said he enjoyed the "Silver Clouds" exhibit.
"I'd seen it on film before, and I thought that in real life it really (looked) kind of magical,"  he said. "I smacked them around."
Allton said he has been to many exhibits at USI before but never one with such a large turn out.
"I think it's a testament to Andy Warhol's importance," he said.
The exhibit documents what he was doing and shows his capacity to use ordinary technology to impress his vision on society, Allton said.
Other interactive features in the gallery include a photo booth where people can dress up like Warhol and get a Polaroid taken, and glass dishes full of "drugs," which are actually colorful candies.
"People want to touch. They want to taste. They want that contact with Andy," Allton said. "Andy Warhol was the center of the Zeitgeist for the 20th century and everything since. He is a post-modern deity."
Kenny Demoss, senior illustration major, said the interactive features create a personalized experience.
Warhol's polaroid's interested Demoss the most.
"I would say that this is not his typical work that most people are really drawn to about Andy Warhol. This is us seeing a different side of Warhol," Demoss said. "We get to know this different character (rather) than the major pop-icon."
Demoss said Warhol would have changed one thing specifically about the showing.
"He would probably say that there needs to be way more drugs," he said.
Studio art and sculpture major Kiara Perkins said she was surprised at how many photographs USI received.
"I think it is amazing how well kept all of the art has been throughout the years," Perkins said. "I really like the photographs of the unidentified people. I think those are the coolest."
Perkins said she planned on skipping class to come to the showing, but her class ended early.
"To me, art is the rawest form of human expression. It's animalistic and instinctual," she said. "I could spend hours in an art gallery. Just being able to see and be up close to art that is legendary, especially in Evansville – we don't have a lot of art around here."
The exhibit will remain on display through March 9 in the McCutchan Art Center/Pace Galleries, located in the basement of the Liberal Arts Center. The gallery is open from 10 a.m. to 4 p.m. Monday through Friday and 1 p.m. to 5 p.m. Sunday.