Eagles trounce visiting Asbury in season-opener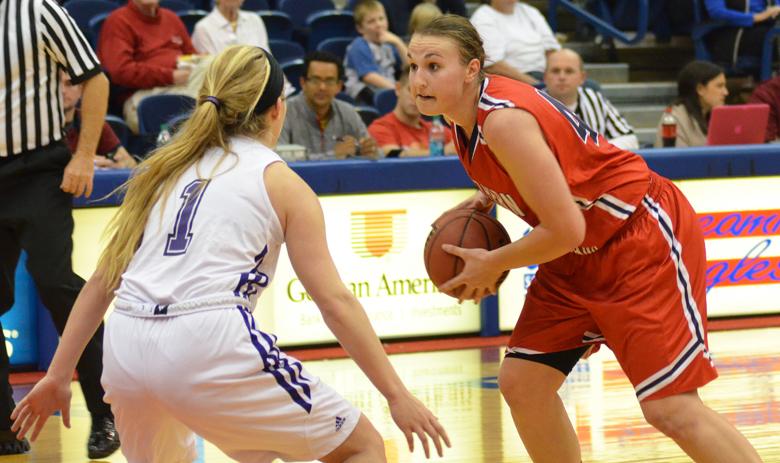 Anna Hackert and Stephanie Carpenter scored 20 points a piece as the Southern Indiana women's basketball team rolled past visiting team, Asbury University, 87-46, in its season-opener on Saturday at the Physical Activity Center (PAC).
It was the fifth straight season-opening victory for USI (1-0).
The Eagles came out of the gates red-hot, outscoring Asbury 24-8 within the first nine minutes. USI led by 26 at halftime  and double-digits for 75 percent of the game.
"I think we came out ready to play," said Carpenter, who hit six 3-pointers. "That was one of our focuses after last week (against the University of Evansville) was being ready from the start and bringing the intensity."
Hackert was 8-for-13 from the field and added nine rebounds, two blocks and two assists in just 21 minutes on the court.
The junior forward scored 12 of the Screaming Eagles' first 29 points, which forced Asbury to double-team her early on. That opened up the rest of the offense considerably. USI showed a good inside-outside balance and established the paint early on in the game. 
"Having (Hackert) down low opens the offense up for the guards a lot," Carpenter said. "They have to really focus on doubling down on her and making sure she's not one-on-one with someone, and that leaves us wide open."
Facilitating the Screaming Eagles offensively was junior guard Autumn Miller, who is in her first year at USI after transferring from John A. Logan College. Miller finished with eight points and two assists in 15 minutes.
"Autumn is really comfortable with our system right now and that's a good thing because as a new player, sometimes that takes longer."
The Eagles held Asbury to just 30 percent from the field and forced 24 turnovers, which led to 28 points in transition. USI knew Asbury was a team that liked to drive, so they forced them to shoot from beyond the arc, where they were just 2-for-21.
"I thought our pressure was really good to start the game," Head Coach Rick Stein said. "With Autumn jamming the ball early, (Asbury) really struggled to get into any kind of flow offensively. Instead of getting entry passes to the 3-point line, they were getting entry passes 30-40 feet from the goal."
Despite shooting just 1-for-5 from the field, junior forward Mary O'Keefe worked extremely well with Hackert in the post. The Edwardsville, Ill., native finished with four assists and three of them going to Hackert.
"I think Mary and Anna definitely have that relationship right now," Stein said. "They know what's coming next. I have to believe all of Mary's assists today came on high-low scenarios, and Anna topped them off."
USI continues its four-game home stand against Davis & Elkins College at 7:30 p.m. Saturday at the PAC.