Rugby advances to regional semifinals for the first time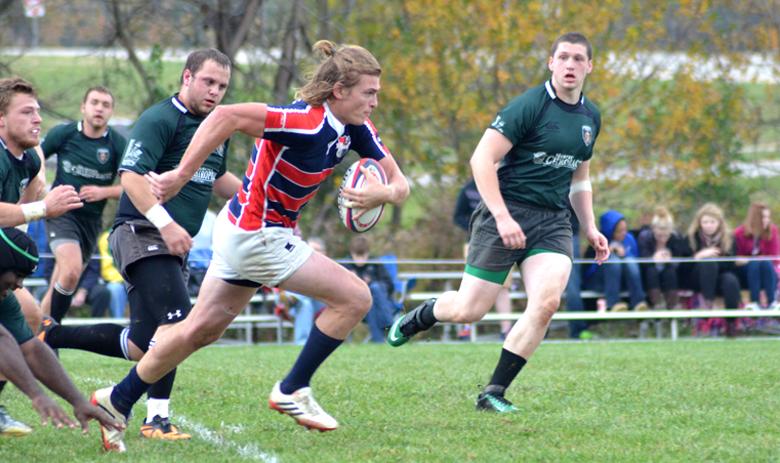 In a rugby regional quarterfinal rematch against the University of Wisconsin-Parkside (UWP), Southern Indiana came out on top 24-17, advancing to the regional semifinals after winning its second consecutive Indiana Division III State Championship.
The Eagles win over UWP marked the first time in school history the club has advanced past the regional quarterfinals.
"They have played differently than any team we have ever played. They are really smooth with everything they do," Scrumhalf Tyler Pipes said. "That's why the game is 80 minutes, so we can adapt to their way of playing."
Both sides came out aggressively, and UWP found the try zone midway through the first half, but failed to convert the kick. USI then put up 14 unanswered points, including a try from fullback Adam Ferrari to end the first half.
In the second half, the Rangers came out strong scoring two tries back-to-back to tie the game at 17-17. But, with about six minutes left in the match, Pipes found his way into the try zone after coming off a scrum, to put the Eagles up by seven after Flyhalf Doug Rose's conversion kick was good.
"It felt amazing," Pipes said. "I feel lucky about sneaking this win out."
The goal was to go out, put points on the board as fast as possible, said Doug Rose.
"A lot of times, if we're stuck with 15 meters left, it's better to get just three points up on the board," Rose said. "We kept chipping out three point(ers), which really hurt their ego and keeps our momentum building."
USI scored off their first conversion kick about seven minutes into the match. Rose made three of the four conversion kicks on the day.
"This was the most powerful team that we have seen so far this year. It was good feeder going into Midwest Tournament," Rose said.
"Though the team was very physical, USI made the match harder on themselves," Head Coach Kurt Murrell said. "We were dominant in a lot of areas in the game, but made too many mistakes that let them back into the game."
Murrell said costly mistakes by the Eagles kept the match in doubt for a long period.
"We (would) spill the ball over, then they would end up scoring, so we made it more nerve-racking than it needed to be."
The team will need to rest before getting back to work for their next matches, Murell said.
"These guys looked a little tired in spots, and they shouldn't be at this point in the season which means we need some rest," Murrell said.
The team has a week off before heading to Elkhart, Ind., for the regional semi-finals and finals on Nov. 16.