Coaches embrace teaching roles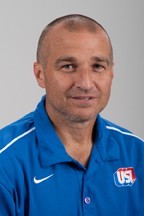 USI men's soccer coach Mat Santoro said if he wasn't a college soccer coach, he would want to be a professor.
"That's kind of like my other dream job," Santoro said.  "I think the thing about teaching is it just gives me a chance to work with students in that educational environment."
Santoro teaches a soccer class in the kinesiology and sports department.
He said teaching helps with coaching and vice versa because both are about dealing with people.  The one major difference between the two is his favorite part about teaching.
"In coaching the end result is about winning," he said.  "Whereas teaching is about learning and the experience of the student."
Santoro said when students can put a face with a name it personalizes the program.
He also said when students get to know someone involved with a team, it not only raises awareness of the program, it also develops a relationship between the team and the student body.
"The students in my soccer class have come out to games, and I'm sure they bring friends," Santoro said.  "I also get feedback from those guys who are interested in how we are doing."
In the past, head coaches were required to teach at least three credit hours per semester, but beginning in the fall semester of 2012, coaches no longer had to teach.
USI still has six assistant coaches, three head coaches and two athletic administrators who are teaching classes this semester.
Having these individuals teach has produced other benefits that were not anticipated.
USI Athletic Director Jon Mark Hall said it's good for the coaches who still teach because they can get a feel for what the student athletes are going through.
He also said teaching can be refreshing and good for the well being of the coach, because it gives them a chance to get their mind off of the day-to-day stress of coaching.
"I'm teaching a class, and sometimes it's hectic to get to that class," Hall said.  "But once I get in there, I kind of forget about the grind of my job and really focus in on trying to help students."
Hall is teaching for the first time since he was the tennis coach.
The class is about the management processes of intercollegiate athletic administration.
Hall was successful as a coach, too, winning GLVC Coach of the Year five times during his career as tennis coach.
"Sometimes I like to just put the book down and let's just talk about how it is," Hall said.  "This is what really happens.  This is how I would handle the situation.  This is how I have had colleagues handle situations.  To talk about how it really goes down."
Sports management major Denver Cross is taking Hall's intercollegiate athletic class.  He said he was surprised by approachability of the athletic director.
"He's pretty calm, cool and collective," Cross said.  "I like it because he will be (a) nice person to know later down the road."