Eagles snap five-game losing streak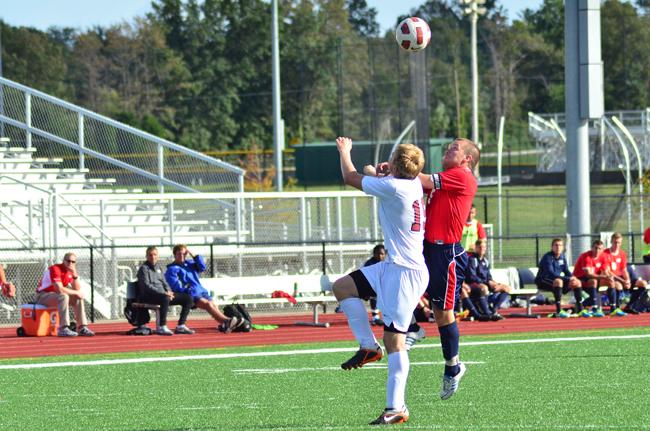 The Eagles broke a five-game losing streak after sophomore forward Brandon Potts scored the difference making goal late in the second half, putting Southern Indiana up 3-2 against Saint Joseph's College.
For Potts, this was his first goal as an Eagle, and it came off a pass from junior forward Caleb Mathers.
"(Mathers) played a wonderful ball, found me in position to take a touch to bury it home," Potts said. "It's great to get this win, get this weight off our shoulders."
The Pumas tried to answer with two shots at the 85 and 89 minute mark, but both attempts were stopped by senior goalkeeper Jeffrey Neidlinger, who picked up two of his three saves of the day during that five-minute stretch.
"We did a good job playing out style, not letting the pressure get to us," Potts said.
Over the last five games, the Eagles have only scored two goals while being out-scored by nine.
"It's kind of hard not to look at the stats and everything," senior midfielder Corey Fundenberger said. "We have been working as a team. We feel like we have been dominating games but struggling to finding the back of the net."
The Eagles last scored three goals in one game Sept. 15 against McKendree, the last game they won prior to Sunday's win.  Two of the three goals scored by USI were assisted by Fundenberger, his first two of the season.
"I'm always trying to find those gaps to feed the ball somewhere else," Fundenberger said. "I worked in hard to get loose balls, and today my passes were just on target."
With a back-and-forth battle, the Eagles needed to stay focused after each score, said Head Coach Mat Santoro.
"Our guys are incredibly resilient through a losing streak or giving up a goal right after we score one; they don't hang their heads, they just keep playing," Santoro said. "We definitely need to have better focus and concentration after we score a goal because we gave them up after we scored them."
The Eagles will be on the road for the next four matches before they return to Strassweg Field for a final two-game home stand, as they host Truman State University and Quincy University Oct. 25 and 27 respectively.
"We feel like we have been a completive good team all year, and maybe even a championship contending team, but we haven't been able to get the key plays at the right moments," Santoro said. "The guys get a little of that belief back, knock a few in, and carry this momentum on the road."