COLUMN: River City Sound Jason Litherland
Hang on for a minute...we're trying to find some more stories you might like.
Jason Litherland has played piano since age five, guitar since 13 and writes songs for his band.
"They all give me ideas," he said. "They're pretty good at putting ideas in my head."
Litherland, a Mcleansborough, Ill. native, recently moved to USI from Rend Lake University.
"There's no independent thinking there, and music isn't going to change that," the senior English major said.
His band, Yellowbelly, plays pop and punk rock, but have expanded on indie, he said.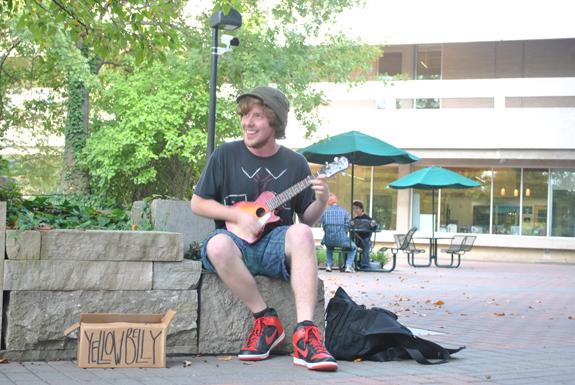 "Yellowbelly's kind of like 'get your shit together punk rock,'" he said. "The album we have right now is straight pop punk."
The influences always go back to punk, he said.
Members of Yellowbelly met while playing in another band but wanted to explore a new sound when they formed in June 2013.
"We've got good vibes, with good friends," he said. "There's no stress."
The name "Yellowbelly" was a title Litherland went by long before the band got together.
"I've been writing and posting under it since 2008," he said. "It's always been a project in my mind."
Litherland plays guitar and ukelele. Combined with a bassist, guitarist and drummer, they play things that just need to be heard, he said.
"I used to be angry about aspects of society," Litherland said. "Lately, we're all on the same page, in this together."
Litherland describes the band's music as a cross between Modest Mouse and Minor Threat, with underlying punk influence.
"We try to have that epic quality," he said.
Yellowbelly wants to give fans something they can listen to, so it can be a part of their life, he said.
"We try not to alienate our listeners," he said. "We try not to shout at them."