Eagles drop GLVC contests against Missouri S&T and Drury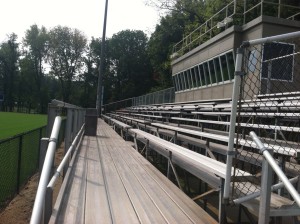 A wet start to the weekend ended in disappointment for Southern Indiana men's soccer team, as it lost two matches to Great Lakes Valley Conference (GLVC)  opponents in Evansville over the weekend.
Wet conditions forced the Friday match against Missouri S&T to be moved from Strassweg Field to the Goebel Soccer Complex. The move was made due to forecasts of bad weather for the remainder of the day and the field-turf availability at Goebel. Battling both Missouri S&T and weather, dealing with heavy rain showers throughout the game, the Eagles fell 1-0.
Alex Reifschneider scored the lone goal of the game, for the Miners, at 18:56 on USI goalie Jeffery Neidlinger. Neidlinger recorded three saves while playing in the net all 90 minutes of regulation.
Despite dropping the contest, the Eagles outshot Missouri S&T 16-8 for the game. Missouri S&T, however, recorded seven saves on shots, compared to only three for the Eagles.
USI was able to rebound quickly from Friday's defeat, when Rush Dugger scored 2:23 into the game off of the assist from Steve Sokol. The goal put the Eagles up 1-0 against Drury in Sunday's match back at Strassweg on campus.
The Panthers then had goals from Nick Ammann, 41:14 into the game, and Matt Hutchison who scored with 63:30 on the clock. Hutchison was credited with an assist on Ammann's goal, while Eric Heet was given a assist on Hutchison's go-ahead goal in the second half.
USI was unable to put another tally on the scoreboard over the final 87 minutes of regulation, and fell to Drury 2-1.
The weekend losses dropped the Eagles overall record to 2-3-1, with a GLVC mark of 1-3-0. USI hits the road Friday to play Rockhurst and also plays William Jewell on Sunday to close out the weekend.