Rugby team places second at Oak Leaf Tournament
After 225 minuets of rugby in two days, the USI Rugby Club placed 2nd at the Oak Leaf Rugby Tournament at Vanderbilt this weekend.
Out of the 10 teams, USI was the only Division III team at the tournament and one Division II team.
"It was intimidating a first just because there was only one DII team there so pretty much just a tournament full of DI teams," said Doug Rose, president of USI's rugby club. "Just knowing we came from a smaller school with a lot smaller players was a little daunting, but went down there trying to get better and play the best rugby we could."
For most members of the rugby team, this was their first time starting in a tournament while having 8 new members on the field at one time.
"Our first match really helped us build some fluidity with some of freshmen and just get them in at different positions and on the field to loosen them up," Rose said. "You could see the progression, confidence build with each game so by game three and four they weren't intimidated at all."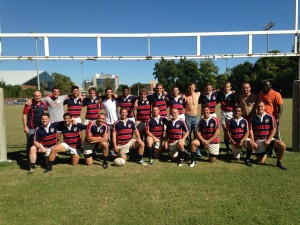 After winning four straight matches, and making it to the championship match, USI fell to the University of Alabama 15-5.
Freshmen flanker Ray Van scored his first and USI's only try during the championship match.
"At first they referee didn't call it, but I knew I scored. As we were about to scrum up again, the other line judge told the ref that he saw I scored," Van said. "It made me feel pretty good that I did something for my team and get my first score ever. "
Unlike traditional rugby, the halves were only 20 minuets instead of 40.
"We had to figure out how to put out more of our energy faster," Van said. "The pace was lot faster, but it allowed me to play many positions through the course of the tournament."
Even though it was a tournament, it didn't count towards the teams goal of playing for the DIII Indiana State Championship. But the tournament gives USI much needed-confidence as they prepare to make a run at the Indiana Small College Rugby Playoffs.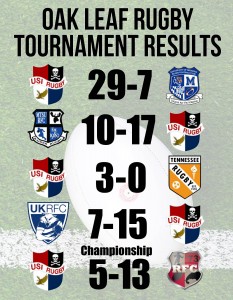 "The biggest thing you need is a solid team beyond the starting 15," head coach Kurt Murrell said. "A good recruiting year has blessed us with depth that will help us to get through the season and will giving people extra time to rest when needed."
The team plans on resting some of the starters that played this weekend and give some of new members more playing time so it will round out our team, Murrell said.
The USI Rugby Club (6-1) heads back into conference play at noon Saturday on the Clarke Lane Recreation Field as the team takes on Indiana State University.