Flag flies high to commemorate 9/11
Everyone who entered USI's campus from the Lloyd Expressway Wednesday morning was greeted by an American flag waving above the overpass from the ladder of a fire truck parked on University Boulevard.
Perry Township Fire Department Assistant Chief Jerry Bulger is in charge of the Flag Raising Ceremony, which has been a tradition since 2002.
"My main goal for the ceremony is to pay tribute to the individuals who lost their lives during 9/11, and to pay tribute to all the firefighters, EMS, police and military that serve our country day to day," Bulger said.
He said he picked the location due to its high visibility and because many of the people who drive by honk and wave to show their support.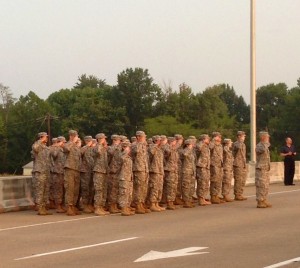 Wednesday marked the 11th year the ceremony has taken place, but this year was different. It was the first time the USI Student Veterans Association (SVA) and USI ROTC took part in the ceremony.
SVA Associate Steve Rayner contacted the Perry Township fire chief to ask if the SVA and ROTC could be involved because he felt it was important to show support and honor those who died.
Rayner said although it has been 12 years since the attack, the support has not weakened.
Although this year was his first time participating, he said he watched the ceremony in previous years.
"The spirit's always going to be there, and they (drivers) prove that every time they come by and honk," Rayner said.
As soon as the flag was raised, those who passed by began honking their horns. Every time one car drove by and honked, more would join in.
Firefighter Steve Gossman feels the support has been unwavering, he said.
"It's as strong this year as it was the first year," Gossman said.
Gossman and Bulger both said they believe the community reacts very positively to the ceremony. Every year, people drive up and thank them. They said they even get stopped on the streets afterward and receive praise.
Some watched the ceremony on foot from the shoulder of University Boulevard.
Kaitlyn Schneider was there in support of her boyfriend, who is in ROTC. Schneider wanted to show support not only for her boyfriend, but also for all of those who have served and are currently serving in the armed forces.
"It is important to support those who gave everything for our freedoms and who keep us safe," she said.
Social Work Associate Professor Gary May was a spectator who, along with others, held up signs that read: "Peace."
May is head of the Evansville chapter of Veterans for Peace, a group consisting of veterans who raise awareness about the cost of war.
"We want people to identify that there can be, and should be, a peace connection that's also associated with remembering 9/11," May said.