Emotional win in 'Gold Game'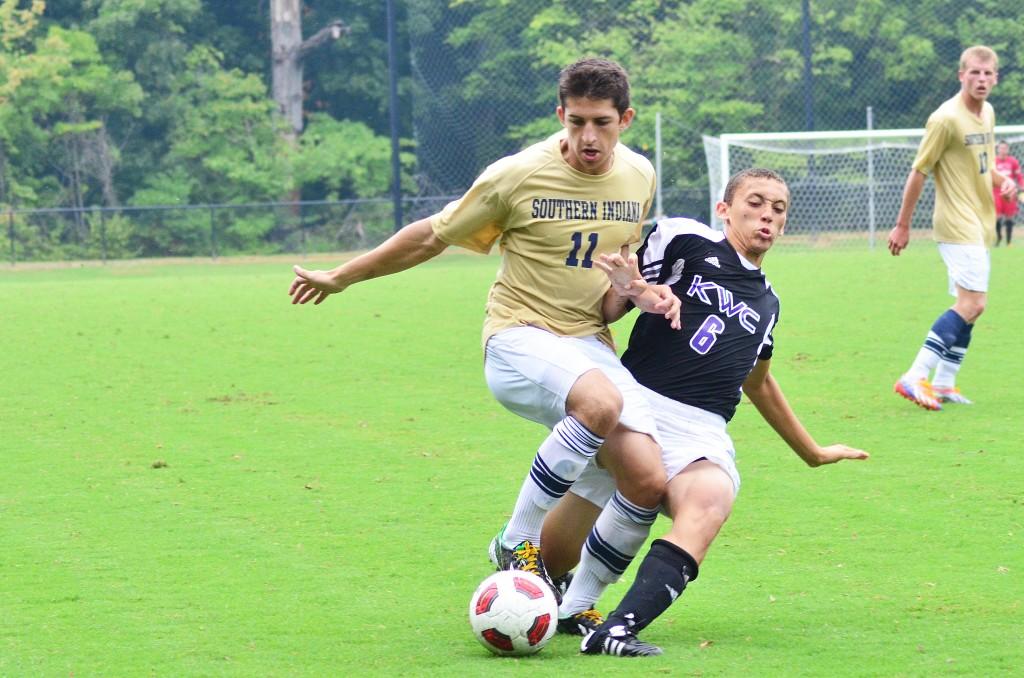 For John Rohling, the second annual "Gold Game" game was more important than most.
Sophomore defender/midfielder Rohling sat on the sidelines and watched the effects pediatric cancer when his close friend Chandler lost his fight with brain cancer in the  fourth grade.
"He was a close friend of mine, and everything he battled through just makes this game that much more important to me," Rohling said.  "I played this game in his honor."
For the home opener against Kentucky Wesleyan College, the men's soccer team didn't wear its traditional red, white and blue jerseys. Instead, the team wore gold in support of pediatric cancer.
The "Gold Game" raised $435 from wristbands and gold shoelace sales to benefit the Go4theGoal organization.
"When you think about pediatric cancer it's way more important than any soccer match there is," Rohling said. "If we can do anything by playing soccer to raise awareness, money, or anything else that's way more important because it's something we're connected with.
Rohling isn't the only one on the men's soccer team who lost someone to pediatric cancer. At 8 years old, Head Coach Mat Santoro lost a brother to cancer.
"It's not that one important cause is more important than the next,but we have really tried to work with this cause," Santoro said. "We hope that we can have a bigger impact on the cause in our community and the greater area."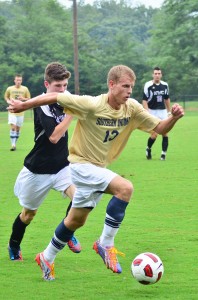 Despite it being an emotional game for a lot of the team, they still had to keep their composure on the field.
"We had to keep our focus. The game didn't really begin our way," Santoro said. "Our guys have already shown a lot of maturity through the first couple of games."
USI rose to 1-0-1 to begin the fall, while KWC fell to 0-2-0 after a dominant 6-0 shutout win. KWC was held to only four shots on the goal and one corner kick for the game.
"We don't talk about not allowing goals, we talk about not allowing chances," Santoro said.
The men take this emotional win over KWC into their first conference match Friday against University of Illinois Springfield at Strassweg Field.
"We just have to come out like we did today, settle our feet and playing through to connect with one another," sophomore defender Josh Weinzapfel said.
Weinzapfel scored two of the teams six goals in the in the first five minutes of the second half.
"This game was just a good start to our home season," Weinzapfel said. "When we play a game like this, it helps give us the motivation for the rest of the season."