Eagles continue to hit during off-season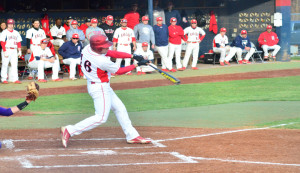 Despite the start of the University of Southern Indiana baseball regular season still being months away, preparation is ongoing. In fact, it hasn't stopped since the Eagles regular season ended in May.
While most players take part in off-season conditioning and workouts, some USI players participated in summer leagues designed to help bridge the gap for collegiate baseball players. The Eagles had three players in the wooden-bat Prospect League, playing for Terre Haute Rex.
"It was a lot of fun going out of town and playing in a new atmosphere," said redshirt sophomore infielder Andrew Cope. "It's a great experience."
Cope, who hit .265 for Rex, was joined by his teammates, fellow redshirt sophomores Kyle Kempf and Ryan Bertram in Terre Haute. Kempf, an outfielder for the Eagles, was selected as a Prospect League All-Star and finished Rex's sixty game schedule with a .336 batting average. Kempf also had a 23-game hitting streak while driving in 25 runs.
"I got hot early, which really got my confidence up," Kempf said. "I was just trying to take everything I learned from USI this past year to Terre Haute and everything worked out." Kempf's stats were accumulated using a wooden bat, compared to the aluminum bat that is used in the collegiate season.
"You can't cheat, you don't get the jam shots that you get with an aluminum bat where they might fall in over short stop or second," Kempf said. "With a wood bat, it's going to break, and you'll be out."
With the collegiate season and preparations now lasting for most of the calendar year, Cope said the schedule allows him to stay in "baseball-shape," regardless of the time of the year.
"Back in high school, you only got to play about 20 games,and now this year I have played over 100 games," Cope said. "You can't really get into a rhythm until you play games, playing in all of those games help you maintain that rhythm."
Now that the Rex is season is over, focus turns back to the Eagles spring campaign. Aside from fall practices, the Eagles will play seven intersquad games against each other.
"Our most important priority is getting ready for the spring (season). Everything is tuned to getting ready," Bertram said. "Baseball is a sport of repetition, so as long as you are focused on getting better everyday, that's the main thing."